Virtual Platform
gRPC Conference 2020 will be hosted on the virtual platform MeetingPlay. You can visit their website here. Please find screenshots of the platform below:
Home Page:
The homepage has your profile, schedule, notifications, and messages. You can view the agenda, sessions, exhibitors, and all other features of the event on the bar on the left side of the screen.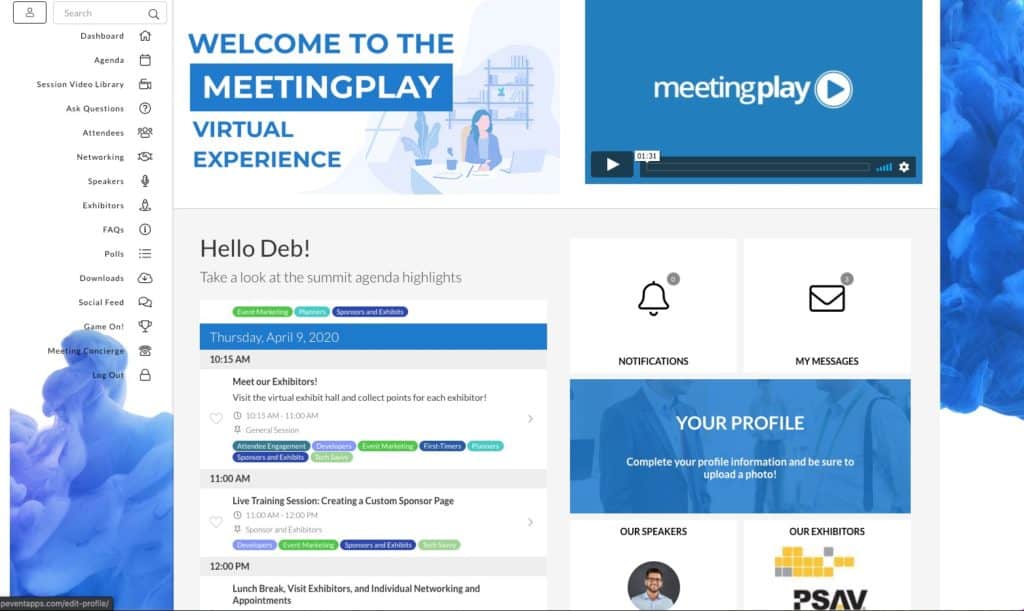 Exclusive Sponsor Listing (Diamond Only)
Diamond sponsors receive an exclusive listing on the virtual platform during the conference. The listing includes your company logo, company description, and downloadable documents. Please email your logo, description, and downloads to Christie Davis by Thursday, June 25th.

Company Description: Please send a description of your company, the location, the website link, and any contact information you would like to include.
Downloadable Documents: Documents must be in pdf format and cannot exceed 10mb. Up to 2 downloads will be accepted.
All information will be loaded onto your sponsor listing for you. I will send screenshots of your listing before the event to ensure everything is displayed properly.