March 10 – 12, 2020
Resort at Squaw Creek
Lake Tahoe, California
#lfmembersummit
The Linux Foundation Member Summit is happening NOW at the Resort at Squaw Creek. See you there!
The Linux Foundation Member Summit (formerly Open Source Leadership Summit) is the annual gathering for Linux Foundation member organizations.
The event fosters collaboration, innovation, and partnerships among the leading projects and organizations working to drive digital transformation with open source technologies. It is a must-attend for business and technical leaders looking to advance open source strategy, implementation and investment in their organizations and learn how to collaboratively manage the largest shared technology investment of our time.
Sign up for the LF Events newsletter to learn more about LF Member Summit and other upcoming events!
SCHEDULE AT-A-GLANCE
Tuesday, March 10
9:00 – 10:50 AM
Keynote Sessions

11:30 AM – 5:10 PM
Breakout Sessions

5:15 – 6:15 PM
Nightly Happy Hour
Wednesday, March 11
9:00 – 10:35 AM
Keynote Sessions

11:10 AM – 5:10 PM
Breakout Sessions

5:15 – 6:15 PM
Nightly Happy Hour
Thursday, March 12
9:00 – 10:15 AM
Keynote Sessions

11:00 AM – 3:00 PM
Breakout Sessions

3:00 – 4:00 PM
Afternoon Break & End of Conference Networking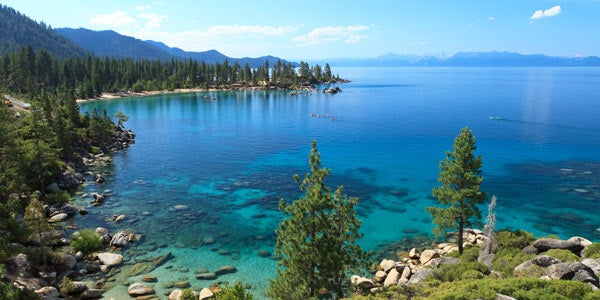 About Lake Tahoe
Lake Tahoe is a pristine jewel of nature – it is the second deepest lake in the United States and has over 72 miles of shoreline. On average, you can see 70 feet down into Lake Tahoe's remarkably clean waters. Take in the beautiful Sierra Nevada Mountains and enjoy Lake Tahoe!
FEATURED KEYNOTE SPEAKERS
Liz Rice is VP Open Source Engineering at cloud native security specialists Aqua Security. She also chairs the CNCF's Technical Oversight Committee and was Co-Chair of KubeCon + CloudNativeCon in 2018. She has a wealth of software engineering experience working on network protocols and distributed systems and in digital technology sectors such as VOD, music, and VoIP. Away from her desk, Liz loves riding bikes in places with better weather than her native London and competing in virtual races on Zwift.

Dr. Hiro Kishimoto is the Senior Fellow at Fujitsu Limited and in charge of software technology. In his career, he was the head of Platform Software Business Unit and Software Technology Unit. He led multiple software research and development projects at Fujitsu Limited and Fujitsu Laboratories. He received the DMTF Star Award, the inaugural OGF/GGF Leadership Award, and the IEEE Gordon Bell Award.

Ali Fenn is the President at ITRenew, where she oversees all revenue and leads the Company's circular data center initiatives, including market development and business model innovation. Open hardware platforms and open source software innovation are the critical foundation underpinning the transformation to a circular global IT hardware industry, and Ali has extensive experience leveraging open innovation to catalyze and accelerate new markets. She has been building enterprise and cloud technology companies for 20 years; previous to ITRenew, she was the CEO of Impact Atlas, a real-time analytics SaaS platform company in the global development sector, led WW market development for cloud systems and solutions at Seagate, and held executive leadership positions at Wyse Technology, BEA Systems, and several SaaS companies in the enterprise space.

An industry veteran with broad leadership background across all Go-To-Market functions, Kevin started as a product manager, driving advanced product development and launches at Silicon
Graphics. From there, I advanced into leadership roles, including Vice President of Marketing and Business Development at multiple companies. A deep understanding of technology and the
markets our partners serve, combined with a belief that partnerships are essential to developing complete solutions, provides a unique perspective and passion for technology that translates into real-world benefits for customers.

Shuli Goodman is the founder and Executive Director of LF Energy, a new Linux Foundation project that supports open source innovation in the energy and electricity sectors. LF Energy's ambition is to accelerate the energy transition and the decarbonization of the world's economies. Having spent the early part of her career enabling some of the world's largest companies in the world to become Internet-ready, she has brought her digital-first, cross-industry background to the electricity sector. With a doctorate in Organizational Systems focused on innovation and the energy transition, Shuli has a uniquely multi-disciplinary approach to solving complex, interdependent problems. She has nearly three decades experience in the startup and ongoing support of governance and multi-stakeholder engagement bodies that have been convened to enable decision-making and provide steering capacity for high-visibility and/or high-risk initiatives. Her goal is to inspire, train, and enable 10,000 developers, in the next 10 years, to digitally transform the world's power systems.

Calista Redmond is the CEO of the RISC-V Foundation with a mission to expand and engage RISC-V stakeholders, compel industry adoption, and increase visibility and opportunity for RISC-V within and beyond the Foundation. Prior to the RISC-V Foundation, Calista held a variety of roles at IBM, including Vice President of IBM Z Ecosystem where she led strategic relationships across software vendors, system integrators, business partners, developer communities, and broader engagement across the industry. Focus areas included execution of commercialization strategies, technical and business support for partners, and matchmaker to opportunities across the IBM Z and LinuxOne community. Calista's background includes building and leading strategic business models within IBM's Systems Group through open source initiatives including OpenPOWER, OpenDaylight, and Open Mainframe Project. For OpenPOWER, Calista was a leader in drafting the strategy, cultivating the foundation of partners, and nurturing strategic relationships to grow the org from zero to 300+ members. While at IBM, she also drove numerous acquisition and divestiture missions, and several strategic alliances. Prior to IBM, she was an entrepreneur in four successful start-ups in the IT industry. Calista holds degrees from the University of Michigan and Northwestern University.

Mark has more than ten years of experience in large-scale Internet research and development, operation and management of the Internet, has served in Baidu, Sina and Tencent. Responsible for the company's operating system, application security, global load balancing platform, messaging middleware, public login, process system, operating platform, operational planning, resources, and budget management. Recently, he is committed to open source and open source ecosystem construction. He is responsible for the development of TARS open source technology and community. He has promoted Tencent's ten-year microservice architecture system to open source, and developed TARS into Multi-language microservice development frameworks, such as C++, Java, Go, Node.js, PHP, Python, .Net Core, etc., and also contributed TARS into the Linux Foundation. Currently, he is also a member of the Microservices and DevOps standards, he is promoting the development and application of microservices and DevOps standards in the industry.

Jim's career spans three of the largest technology trends to rise over the last decade: mobile computing, cloud computing and open source software. Today, as executive director of The Linux Foundation, he uses this experience to accelerate innovation in technology through the use of open source and Linux.

At The Linux Foundation, Jim works with the world's largest technology companies, including IBM, Intel, Google, Samsung, Qualcomm, and others to help define the future of computing on the server, in the cloud, and on a variety of new mobile computing devices. His work at the vendor-neutral Linux Foundation gives him a unique and aggregate perspective on the global technology industry.

Jim has been recognized for his insights on the changing economics of the technology industry. His writing has appeared in Businessweek, Wired, and other top technology journals, and he is a regular keynote speaker at industry events. He advises a variety of startups, including Splashtop, and sits on the boards of the Global Economic Symposium, Open Source For America, and Chinese Open Source Promotion Union.

Kathy is the engineering manager and head of open source at Facebook. Her mission is to help Facebook use and release quality open source software. Kathy is experienced in the technical design of frameworks, growing a thriving developer community, and leading developer relation organizations. Kathy is a technical leader with over a decade of experience in the strategic leadership of multiple developer platforms. She previously worked at Google and Microsoft, where she was a recognized expert in API and framework design.

Josh Aas co-founded Let's Encrypt and the entity behind it, Internet Security Research Group, in 2013. Let's Encrypt, a nonprofit service, is now the world's largest provider of TLS certificates. Josh currently serves as the organization's Executive Director and Chair of the Board of Directors. Josh has dedicated much of his professional life to creating a better Web, with a focus on privacy and security. Prior to starting Let's Encrypt, Josh spent more than a decade with Mozilla.