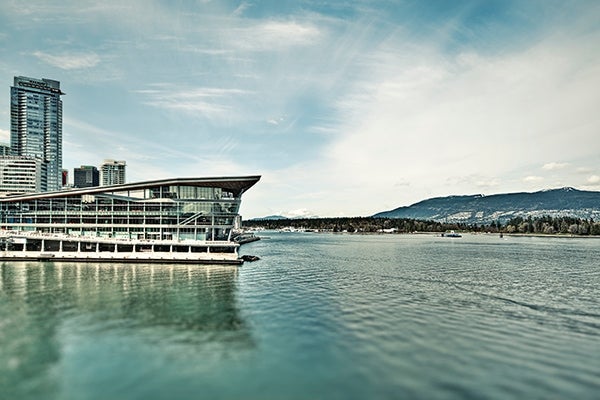 1055 Canada Pl
Vancouver, BC V6C 0C3, Canada
Please note, rooms will most likely sell out in advance of the room block close dates listed below. We encourage you to book early to secure a room at the conference rate.
Important: The Linux Foundation will never reach out to attendees by phone to make hotel reservations for our conferences. Please be advised that the most secure way to book in our discounted room block is by using the direct booking link provided below or by calling the hotel directly. If you receive a phone call or email from someone claiming to be with The Linux Foundation or the hotel and they attempt to sell you a hotel room, please email us at housing@linuxfoundation.org.
Alternate Lodging Options
The Linux Foundation has not contracted rooms at these properties and cannot guarantee rates or availability.
Airport Information
Vancouver International Airport (YVR)
Distance from the venue: 9.5m / 15.3km
Time by car: 33 minutes
Time by Canada Line Train: 36 min ($4.50 CAD)
Public Transportation
Vancouver's public transportation is both efficient and convenient. The Translink system includes buses, the SeaBus ferry and the SkyTrain (light rail), all of which are ecologically friendly, reliable and inexpensive. Regular service runs from about 5 or 6 a.m. to around 1 a.m. every day. The TranksLink tickets are called Compass tickets, which are used for one-way fares and day passes.
Parking
At the Venue:
West Building
1055 Canada Pl
*Enter off of Canada Place, ½ block west of the Burrard Street intersection on the right-hand side.
$24 CAD/day
East Building
999 Canada Pl
*Enter at the foot of Howe Street.
$23 CAD/day
Convention Center Parking website
Nearby:
Imperial Parking Canada Corporation
Commerce Place (Impark Lot #1921)
400 Burrard St Downtown Vancouver, BC V6C 3A6
$21 CAD/Day
Helpful website for other paid downtown/convention center parking (prices vary)
All contracted hotels have parking garages ranging from $29 – $49 CAD + local taxes/night