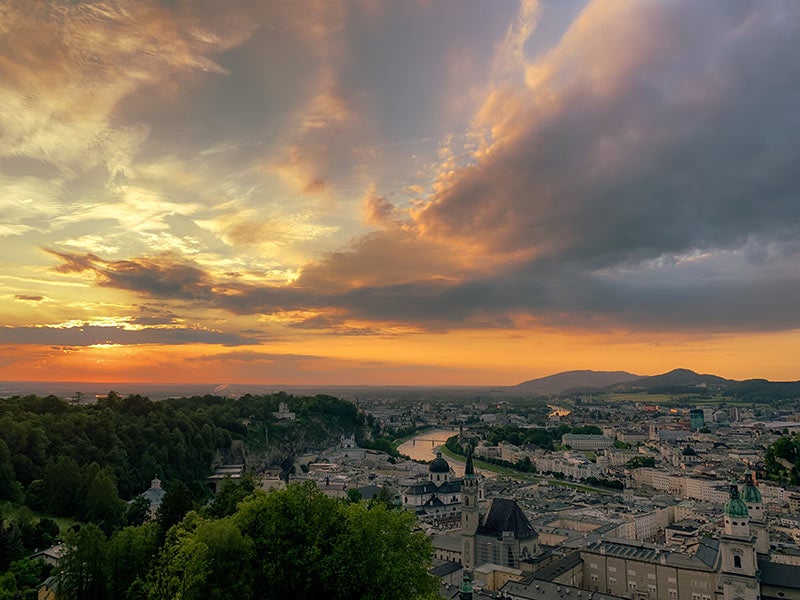 Fanny-von-Lehnert-Straße 7, 5020 Salzburg, Austria
*See hotel information for the room block information and use the promo code to receive the group rate.
(coming soon)
Airport Information
W.A. Mozart Airport (SZG)
Distance from the venue: 4.9 km
Time by car: approximately 12 minutes
Parking
Parking Garage located near the hotel:
Distance: 50m from hotel
Fanny-von-Lehnert-Straße 7, 5020 Salzburg
Opening hours: Monday – Sunday, all around the clock
Parking fee: € 1.50/h, 1 day (11-24h) € 16.00
Charge your e-car during your stay:
There are 2 e-charging stations in front of the hotel and 4 e-charging stations in the underground car park that you can use for your electric cars.
Public Transportation
Central Railway:
Due to its central location, Wyndham Grand Salzburg Conference Centre can be easily reached by public transport. The central railway station, as well as the central bus station in Salzburg, are only 300 metres away from the hotel. After leaving the station building, cross Südtiroler Platz. Keep right after the next intersection and turn into Fanny-von-Lehnert-Straße. Find your connection here:
City Bus:
The city bus no. 2 takes you from the airport to the main station. At the station, cross Südtiroler Platz on foot and turn right at the next intersection into Fanny-von-Lehnert-Straße to reach our hotel.
Via Car:
Coming from the A1 freeway, take the Salzburg Nord exit in the direction of Maria Plain/ Itzling. At the 2nd intersection (just before the train underpass) turn right and follow Bahnhofsstraße along the railroad tracks. At the traffic circle turn right into August-Gruber-Straße and then immediately left into Elisabethstraße. At the next traffic light turn left into Karl-Wurmb-Straße. The Wyndham Grand Hotel Salzburg Conference Centre is on the left.