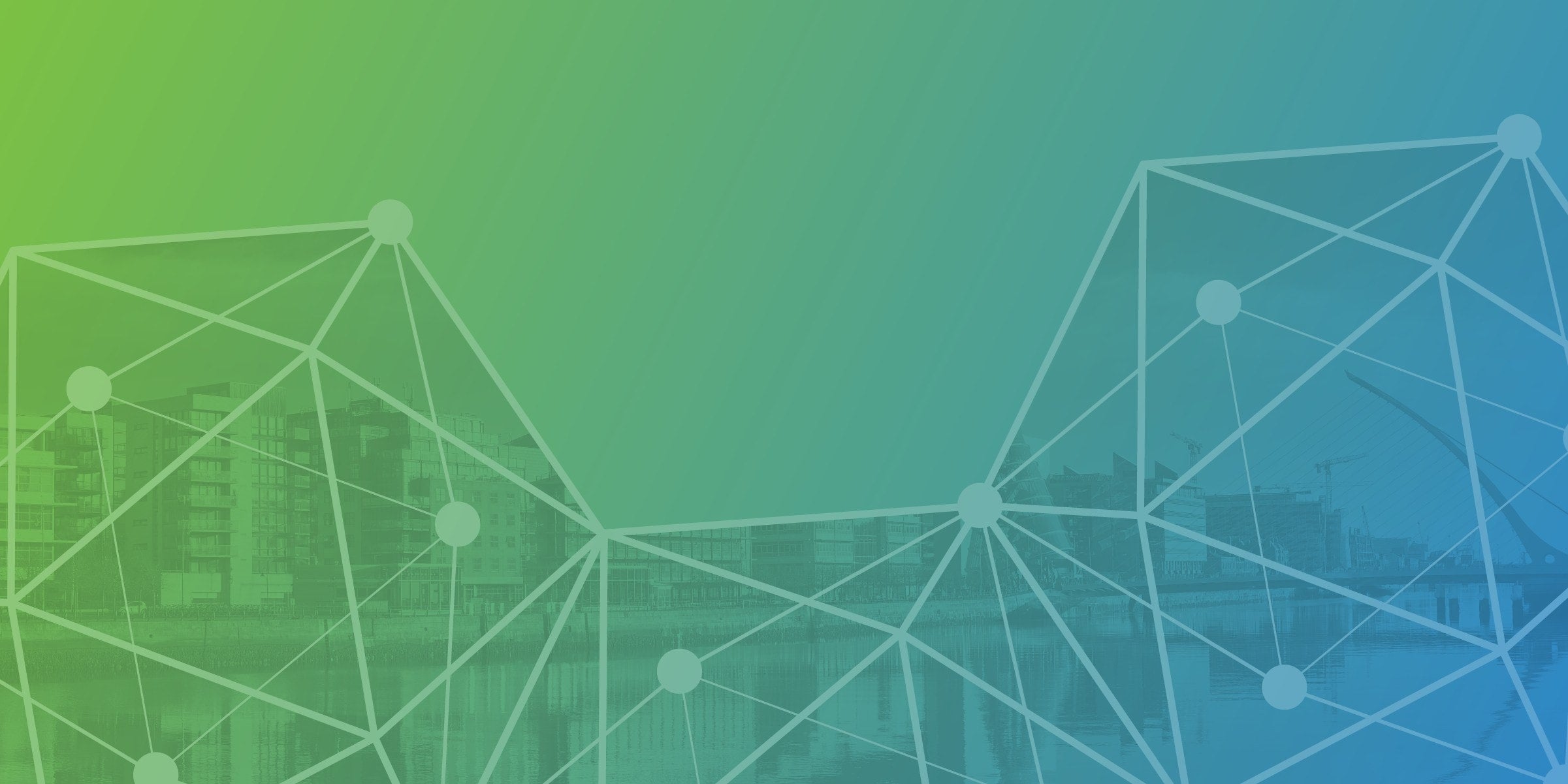 The Premier global Enterprise Blockchain Event
September 12 – 14
Dublin, Ireland
#hyperledgerforum
Thank you for Attending
Hyperledger Global Forum 2022 is a wrap! Thank you to all of the attendees, speakers, and sponsors that joined us this year, both in-person and virtually! To experience the best of the event, be sure to watch the session recordings on the Hyperledger Foundation YouTube Channel and review slides from speakers who provided them via the event schedule.
The 2022 Global Forum Experience
Hyperledger Global Forum is the biggest annual gathering of the global Hyperledger community. It is a unique opportunity for contributors, members, service providers and enterprise end users from around the world to meet, align, plan and hack together in person. The event is open to any and all who are involved or interested in using, developing or learning more about Hyperledger's open source enterprise blockchain technologies. Attendees will hear directly from those who are actively developing and deploying Hyperledger technologies as well as technology and business leaders who are shaping the future of enterprise blockchain. They will also have the chance to talk directly with Hyperledger project maintainers and the Technical Steering Committee, collaborate with other organizations on ideas that will directly impact the future of Hyperledger Foundation, and promote their work among the communities.
Hyperledger Foundation is a nonprofit organization that brings together all the necessary resources and infrastructure to ensure thriving and stable ecosystems around open source software blockchain projects.
Hyperledger Foundation hosts a number of enterprise-grade blockchain software projects. The projects are conceived and built by the developer community for vendors, end-user organizations, service providers, start-ups, academics, and others to use to build and deploy blockchain networks or commercial solutions. The Hyperledger Foundation staff is part of a larger Linux Foundation team that has years of experience in providing program management services for open source projects.
The Hyperledger Global Forum Experience
Jyoti Ponnapalli

Bloq Chain Solutions, DTCC

Vipin Bharathan has 35 years of experience as a developer, development manager, product owner and project manager in many different domains, including insurance, embedded systems programming, cryptography, payment systems, media, fx trading and most recently in fixed income. Vipin is currently working with the Digital Currency Global Initiative (DCGI), an ITU and Stanford project; as team leader of the Interoperability workstream inside the Policy and Governance Working Group. DCGI is working on technical standards. Vipin is a Forbes special contributor on Crypto-currencies, Blockchain, Financial Market Infrastructure, CBDCs and privacy. Vipin is a co-author of a paper on CBDCs that proposes a unique dual framework pattern for CBDCs. For the last five years Vipin Bharathan has been working as a technical strategist and advisor for Digital Transformation. Recently he helped create a standards based Central Bank Digital Currency (CBDC) proof of concept in Hyperledger labs which he demonstrated to organizations like the Bank of England, IBM and the World Bank. Vipin Bharathan's top skill is to function as a bridge between technologists, business and regulators. Vipin is equally comfortable with software developers and CEOs. Vipin Bharathan is a proponent of Free and Open Source Software (FOSS) and has been involved with Hyperledger since its inception; now he is the chair of the Identity Working Group and founder and chair of the Capital Markets Special Interest Group. He has spoken at the Columbia University school of law FOSS conference on emergent effects of technology solutions among numerous other public presentations and panel appearances. Vipin Bharathan has a B. Tech in Aerospace Engineering and a M. Tech in Operations Research and Industrial Engineering both from Indian Institute of Technology, Madras.

Daniela Barbosa serves as General Manager Blockchain, Healthcare and Identity at the Linux Foundation and as Executive Director of Hyperledger Foundation with overall strategic and operational responsibility for staff, programs, expansion and execution of Hyperledger's mission. Daniela has more than 20 years of enterprise technology experience, including serving for four years as Hyperledger Foundation's Vice President of Worldwide Alliances with responsibility for the member community as well as broader industry and business community outreach and overall network growth. She started her career at Dow Jones where she worked with the top global brands across various sectors, including finance, consumer and energy, to architect and deliver enterprise systems, ontologies and semantic web solutions. In the early 2000s, Daniela became involved in the early web 2.0 community helping to advance the concept of digital identity and data portability as the pathway for people to reuse their data across interoperable applications.

Lory Kehoe

Head of EMEA Market Operations, Coinbase & Founder and Advisory Board Member, Blockchain Ireland

Melanie is a Managing Director, Metaverse Technology Capabilities Lead at Accenture. As part of the Tech Innovation leadership team, she is also responsible for exploring and developing technologies focused on supply chain, supply chain finance & operations, including advising on investments and acquisitions. Throughout her 20-year career at Accenture, she has led large scale transformations for Fortune 500 companies across a range of industries, including products, health and financial services. Melanie also built and ran Accenture's Tech Garage, advising operations executives on the strategies by which to bring forward the next generation of emerging technologies. Melanie is on the board of the Colorado Technology Association, bringing her global insights to help create a thriving technology community in Colorado. She has been quoted in publications including the Silicon Republic, CoinDesk, Irish Independent, PYMNTS.com, BrandLab, and LedgerInsights. Melanie is a gifted and sought-after speaker, helping to bring complex topics to life at events including Consensus, Hyperledger Global Forum, SIBOS, Global Blockchain Summit, International Association of Outsourcing Professionals, International Women's Day, and Women in Technology.

Robert Palatnick is Managing Director – Global Head of Technology Research and Innovation at DTCC, where he has responsibility for the global IT strategy, architecture, standards and engineering design of the systems and applications that support the firm's broad range of products and services. In addition, he leads DTCC's technology innovation initiatives, including cloud, automation, big data analytics and distributed ledger technologies and co-sponsors DTCC's Office of Fintech Strategy.

Before this role, Rob held a number of senior technology positions at DTCC including Application Development Domain Lead, Chief Administrative Officer of IT and CIO of FICC. Prior to joining DTCC, Mr. Palatnick was Vice President, Development and Systems, at Security Pacific Corporation Sequor Software Services.
An active technology voice in the industry, Rob has been a featured guest speaker at key conferences worldwide and is often quoted in the press. He also serves as Chairman of the Governing Board of the Linux Foundation's Hyperledger Project, a collaborative effort to establish, build and sustain an open, distributed ledger platform across industries.

Rob received his BS in Electrical Engineering from the University of Buffalo, and is an alumnus of the David Rockefeller fellowship.

Marie is currently an analytics strategist for IBM, having spent more than a decade at IBM developing content, semantic and social analytics technologies which today underpin such solutions as IBM Watson. In recent years her primary focus has been on the analysis of people networks to deliver smarter, personalized and contextualized solutions for individuals and organizations. She is a globally recognized thought leader, with an active social media presence and popular blog, AllThingsAnalytics.com. @marie_wallace

Bob is Chief Architect and Head of Enterprise Architecture at Allianz Technology linking company strategy to the design of business and IT systems enabling close alignment of emerging technologies with the existing business. This includes initiatives and applications that affect all parts of the Allianz value chain.

Bob is also Head of Global Blockchain with responsibility for delivering products with Blockchain and Distributed Ledger Technologies as the foundation for new digital business models for Allianz. He has a deep experience specifically with Blockchain in financial services. Bob is a Director on the Board of the Corda Network Foundation.

Bob has a financial modeling and actuarial engineering background in both valuations and data science and brings with him over 20 years of expertise in the global insurance industry.

Kaliya, widely known as the Identity Woman, is a top expert in decentralized / self-sovereign identity. She has committed her life to the development of an open standards based identity layer of the internet that empowers people. Kaliya co-founded the Internet Identity Workshop (IIW), which in the past 17 years has nurtured standards being used all over the internet, like OpenID Connect and OAuth. In January 2020 she was featured in Wired UK.

Sarah Palurovic

Executive Director, Digital Euro Association

Tracy Kuhrt is a Technology Architect within Accenture's Metaverse Continuum business group with 20+ years of experience covering the entire software development lifecycle. Tracy has been involved in the blockchain space since 2015, with a focus on Hyperledger. At Accenture, besides architecting and delivering solutions for clients, Tracy is educating the next group of Blockchain and Multiparty Systems Technology Architects, is a frequent speaker on the topic, and is an advocate for inclusion and diversity in the technology. Tracy drove Accenture's efforts to open source its Blockchain Automation Framework and Blockchain Integration Framework, which is now Hyperledger Bevel and Hyperledger Cactus, respectively. Tracy is currently the chair of, and one of the first women elected to, the Hyperledger Technical Steering Committee and a Hyperledger Lab Steward. Prior to Accenture, Tracy served as a Community Architect at Hyperledger, where she worked to build the community, evangelized Hyperledger and its projects worldwide, and helped develop the first Hyperledger EdX course. Tracy has experience in a variety of different industries, including automotive manufacturing, healthcare/pharmaceuticals, semiconductors, payments, and open source. Tracy has a bachelors degree in Computer Science and Engineering, as well as, a masters degree in Computer Science.

Tim Bieko

Ethereum Foundation

Hart Montgomery serves as the CTO of Hyperledger. Hart has extensive experience in blockchain and cryptography, and previously worked in blockchain and cryptography research at Fujitsu Research where he helped lead Fujitsu's efforts in Hyperledger. Prior to Fujitsu, Hart received a Ph.D. in cryptography at Stanford under Dan Boneh, where he was a Stanford Graduate Fellow. Hart has numerous academic publications and patents in cryptography and blockchain and brings a wealth of experience in these areas to the Hyperledger Foundation.

Hilary Carter is SVP Research and Communications at the Linux Foundation, a San Francisco-based non-profit technology consortium. Here, Hilary recently launched Linux Foundation Research, a division dedicated to creating and sharing decision-useful insights on the subjects that matter in the world of open source technologies and standards which underpin much of the digital infrastructure on which the global economy depends.Previously, Hilary launched and operated the Blockchain Research Institute's Syndicated Research Program where she managed the BRI's research team, staff, and the member and partner ecosystem.
Hilary is the author of a number of blockchain-specific research projects. Her titles include Social Media on the Blockchain (2018); Blockchain for Saving Our Seas (2019); and Journey to Blockchain: A non-technologist's guide to the Internet of value (2019). With Don Tapscott and Jill Rundle she co-authored Networked Hotbeds of Blockchain: Creating Global Hubs for the Internet's Second Era (2018). Hilary also contributed to Don Tapscott and Alex Tapscott's Blockchain Solutions in Pandemics (2020), and New Directions for Government in the Second Era of the Digital Age (Tapscott, Williams, Sandberg, 2021).
A sought after thought leader, Hilary has been featured by the CBC, Globe and Mail, CTV News, Global News, and other media outlets for her expertise on blockchain and digital transformation. She is a regular speaker at technology industry conferences including Blockchain Revolution Global, Blockchain Live, Hyperledger Member Forum, and United Nations Blockchain for Impact Summit.
Hilary's career began in financial services with experiences in Corporate Finance, Research and Analysis, and Global Private Banking. Her career pivoted to digital technology where she focused on mobile communications and digital media consulting, working with the C-Suite. Her writing on digital transformation has been featured in the Globe and Mail on topics such as diversity in blockchain, digital leadership, professional online branding, innovation and entrepreneurship, and leadership with disability.
In addition to her role at the Linux Foundation, Hilary serves as an advisor to technology startups including VeriTX, a blockchain-based manufacturing and supply chains solution serving the aerospace and healthcare markets, and LinkSports, a blockchain-based microfinance and sponsorship platform for aspiring athletes. She earned a Master of Science from the London School of Economics and holds both Canadian and Irish citizenship.

lan Melendez is the Regional Lead of LACChain, an Inter-American Development Bank initiative to enable blockchain infrastructure in compliance with regulations in Latin America and the Caribbean. And Business Development lead of LACNet, the blockchain orchestration entity for the LACChain ecosystem to facilitate corporate grade solutions deploy on a guaranteed neutral network and in compliance with the regulation.

Blockchain consultant and passionate about the disruptive impact the technology can bring to the countries in LATAM, Ilan leads projects related to transparency in the supply chain, verifiable credentials, financial markets, and government projects.

Ilan has more than 20 years of experience working for technology companies delivering services to Fortune 500 companies, he is a Software Engineer, Blockchain Consultant, Program Manager, and MBA.

Dr. Andreas Kind leads the global research for Cybersecurity & Trust at Siemens. He received his Ph.D. degree in computer science from the University of Bath, UK and worked in various positions for IBM Research from 2000 until 2019. Andreas holds over 20 patents and authored and co-authored over 40 research publications. He presented at numerous peer-review conferences and was invited for keynote presentations at Blockchain Revolution Global 2020, World Web Forum 2019, MIT Technology Review EmTech 2018 and IMF Global SME Finance Forum 2016.

Dave Treat is a Senior Managing Director, Global Metaverse Continuum Business Group & Blockchain Lead, Accenture & Hyperledger Governing Board Chair. He has over 20 years of experience in Financial Services split between consulting and industry roles spanning Capital Markets, Retail Banking, and Cards.Over the past several years, Dave has driven the formation of Accenture's Blockchain Business which now spans the globe, engages clients across all industries, and ranges from pure R&D to full scale client business transformation.

In addition to managing several of Accenture's strategic alliances in the blockchain domain, he serves as a member of the boards of Hyperledger, a Linux Foundation Project, the Enterprise Ethereum Alliance (Vice Chair), the Global Blockchain Business Council, The Chamber of Digital Commerce, and the ID2020 Alliance. David also serves on the World Economic Forum C4IR Blockchain Business Council and is the Project Advisor for the World Economic Forum's Digital Identity Initiative and the Known Traveler Digital Identity project.

Dave holds over 26 blockchain patents and pending patents, is a frequent speaker and the author / contributor of multiple papers, including: Powered by blockchain: Realizing AI's full potential, Connecting ecosystems: Blockchain integration, Digital Identity: On the Threshold of a Digital Identity Revolution and Banking on Blockchain: A value analysis for investment banks.He has been quoted extensively on blockchain-related topics in the New York Times, Fortune, Financial Times, Wall Street Journal, among others.

He is a regular speaker at major international conferences, including: Consensus, Davos – World Economic Forum, Hyperledger Global Forum, ID2020 Summit, IBM Think, ITPC (SEMI), Milken Institute Asia Summit, Money2020, Singapore Fintech Festival, SIBOS, SXSW, Synchronize, USDA – Food Forward, UN General Assembly – WEF Social Impact Summit and the World Trade Symposium. Dave was named one of the Sci-Tech 100 2018: The Architects of the Future by Silicon Republic.

Dave received his bachelor's degree from the University of Pennsylvania and his master's degree from the University of Michigan. He is based in New York.

Christopher Pilling

Principal Consultant, Fujitsu

Heather is CEO of Indicio, the market leader in developing Trusted Digital Ecosystems, providing companies with the software and infrastructure needed to authenticate and exchange high-value information and develop trusted, secure relationships. Under her leadership, Indicio launched the leading professionally staffed global blockchain network for decentralized identity and open sourced the Cardea project at Linux Foundation Public Health, a complete system for the use of verifiable credentials. Indicio's clients continue to demonstrate how decentralized identity can solve the fundamental problems of fraud, authentication, identity, privacy, and zero trust. Prior, Heather was the executive director of the Sovrin Foundation, a nonprofit and early adopter of decentralized identity. Heather has an MBA from Johns Hopkins University, a MSC from Columbia and is widely a globally recognized thought leader in online privacy and security issues, advising governments and global NGOs.

Drummond has spent over two decades in Internet identity, security, privacy, and governance. He joined Evernym as Chief Trust Officer after Evernym acquired Respect Network, where he was co-founder and CEO. At the W3C he is co-editor of the DID (Decentralized Identifiers) specification. At the Trust over IP Foundation, Drummond is a member of the Steering Committee and co-chair of the Governance Stack Working Group. At the Sovrin Foundation, he serves as co-chair of the Sovrin Governance Framework Working Group. For ten years he served as co-chair of the OASIS XDI Technical Committee, a semantic data interchange protocol that implements Privacy by Design. He is also co-author of the forthcoming book, Self-Sovereign Identity, from Manning Publications. Prior to starting Respect Network, Drummond was Executive Director of two industry foundations: the Information Card Foundation and the Open Identity Exchange. He has also served as a founding board member of the OpenID Foundation, ISTPA, XDI.org, and Identity Commons. In 2002 he received the Digital Identity Pioneer Award from Digital ID World, and in 2013 he was cited as an OASIS Distinguished Contributor.

Nicolas de Labarre

Head of Service INSPIR – Innovation and Product Support for European Market Infrastructures, Banque De France

Mai Santamaria

Head of Financial Advisory Team, Department of Finance, Ireland

John Jordan

Executive Director, BC Digital Trust Service, Province of British Columbia

Csilla is VP Strategy at BTP, an enterprise blockchain company. Previously, Csilla was a technology industry analyst at market research and advisory firm 451 Research – now part of S&P Global Market Intelligence – covering the enterprise blockchain space, among other areas. Csilla also led market intelligence and business modelling work at a number of EU-funded research, development and innovation projects. Csilla is multilingual and holds an MSc in economics, and business and management consulting.