Hyperledger Foundation Member Summit
Sunday, September 11, 2022 | 08:00 – 17:30
Location: Dublin Convention Centre, Level 2
Registration Cost: Complimentary, Hyperledger Foundation Members Only
Member Summit is Hyperledger Foundation's annual flagship event, bringing together representatives from our member companies to connect with each other, address common challenges, share lessons learned, and collectively envision how to make Hyperledger Foundation the place for enterprise blockchain and distributed ledger technologies to grow and thrive.
We welcome members from around the world, community leaders along with first-time participants, to provide input into our strategic direction and collaborate with each other, across both technical and business topics.
This year's event will take place at the Dublin Convention Centre in conjunction with Hyperledger Global Forum 2022. Additional details will be provided on the Hyperledger Foundation Member Portal.
How to Register: Pre-registration with an access code is required. Choose from the options below to register. Contact hyperledger-events@linuxfoundation.org with any questions.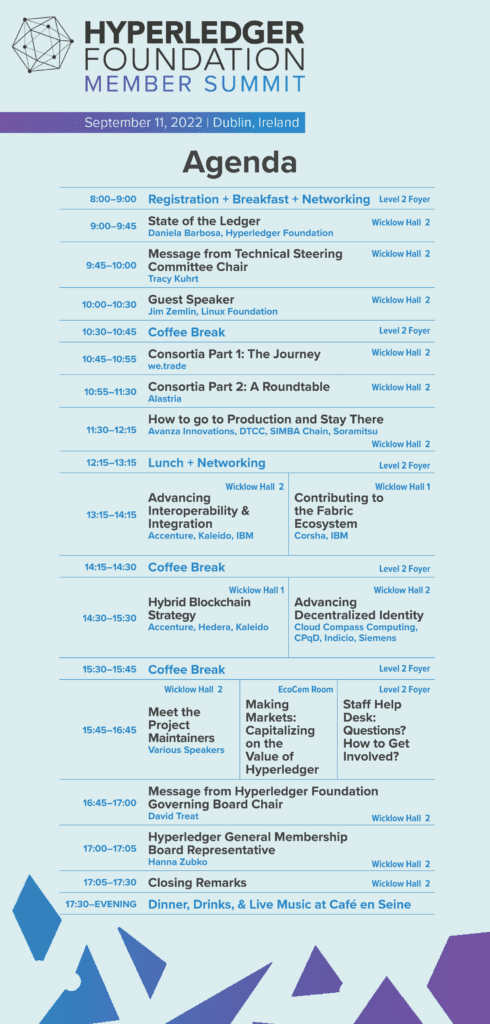 MEMBER RECEPTION
Sunday, September 11, 2022 | 18:00 – 20:00
Location: Café en Seine, 40 Dawson Street, Dublin, Ireland
Help us cap off Member Summit and get ready for Hyperledger Global Forum by enjoying a relaxed evening of savory food, live music, Irish whiskey, and good company in Dublin's city centre. Join us at Café en Seine, housed in a building steeped in Dublin's rich history.
Transportation will be provided to/from the evening event. Pick-up will take place in front of the Convention Centre Dublin and drop-off after the event will be to the Hilton Garden Inn and The Gibson Hotel.