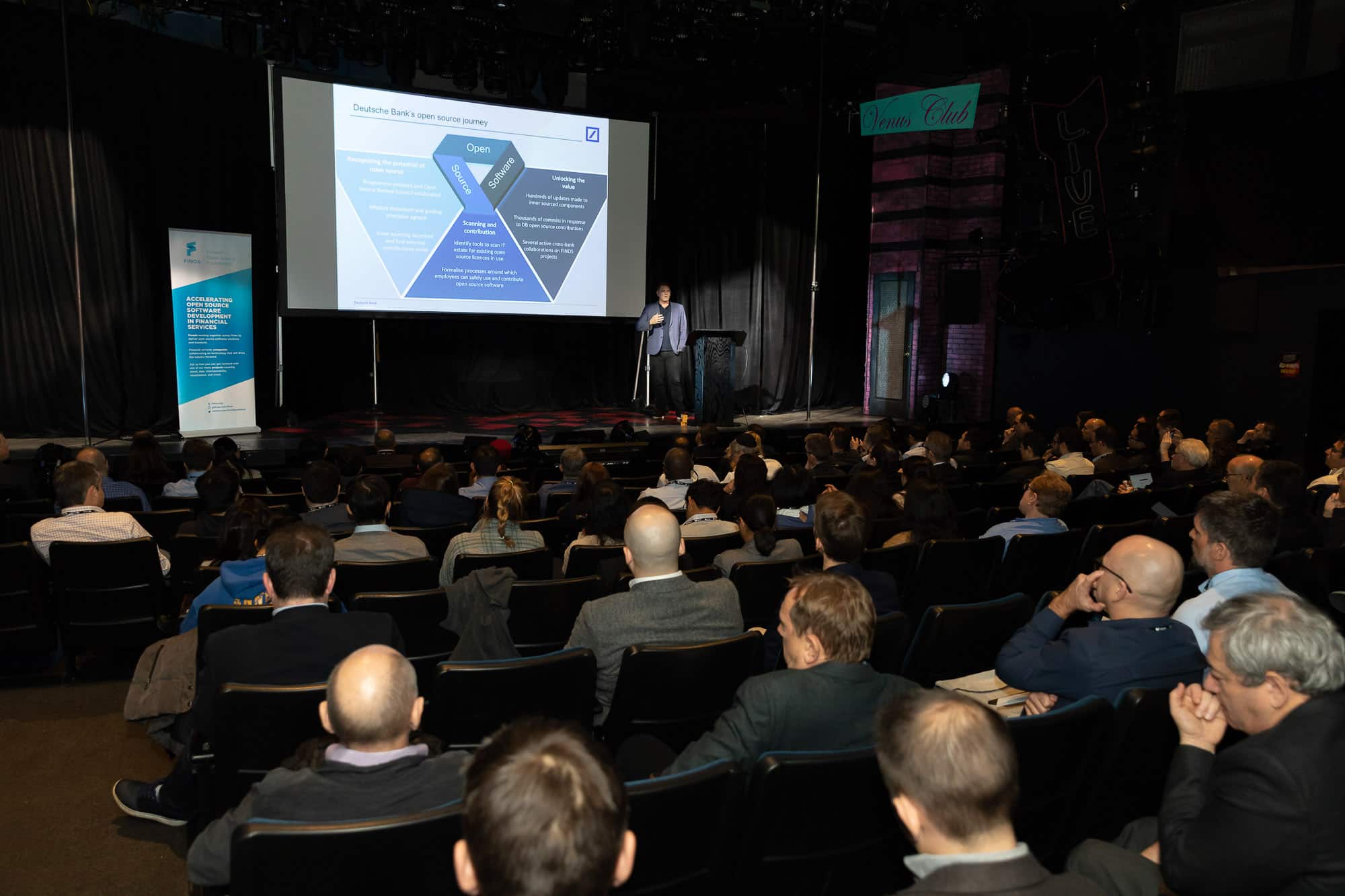 October 4-5, 2021
London, UK | #OSfinserv
That's a wrap for Open Source Strategy Forum London 2021. Thank you to all our attendees, speakers and sponsors!
Our on-demand session videos are already available on YouTube! Check them out on the Linux Foundation YouTube channel, and continue to check back as all in-person session videos will be added over the next week.
Stand by for OSSF 2022 Dates!
We're working to make plans for upcoming OSSF events in 2022, and we'll let you know as soon as those dates are confirmed.
---
Open Source Strategy Forum (OSSF) is the only conference dedicated to driving collaboration and innovation in financial services through open source software and standards.
We bring together experts across financial services, technology, and open source to engage our community in stimulating and thought-provoking conversations about how to best (and safely) leverage open source software to solve industry challenges.
Russell Green is a Managing Director, and the Global Head of Architecture, at Deutsche Bank AG. He spent time as a software engineer in a number of industries before focusing on software architecture and system design in the Financial sector. His current focus is on ensuring that Deutsche Bank has a well-articulated IT Strategy across all business lines and a supporting technology approach. This includes the impact and adoption of new technology trends to increase the efficiency and reduce the costs of the organisation. Russell is a post doctorate of Imperial College where he studied Physics.

My background and core competence is systems software engineering, but I love the whole process of building products. I've been in startups that have succeeded and others that have failed. I enjoy writing code, and understanding how other people will use it.

I'm Chief Open Source Officer with eBPF pioneers Isovalent, creators of the Cilium project, which provides cloud native networking, observability and security. Prior to that I was VP Open Source Engineering with security specialists Aqua Security. I'm chair of the CNCF's Technical Oversight Committee, and I co-chaired the KubeCon / CloudNativeCon 2018 events in Copenhagen, Shanghai and Seattle. I'm also an Ambassador for Open UK.

Nick Cook is Head of Global Strategy & Partnerships at AIR. He is based in the UK and joined AIR in September 2021. Nick works with AIR's senior team, to help set strategy and priorities to advance and maximize AIR's impact and to lay out and promote practical new models and pathways for regulatory modernization worldwide. He previously led the UK Financial Conduct Authority's (FCA) Innovation Division, including the agency's RegTech and TechSprint initiatives, its data and analytics strategy, machine learning endeavours, and "Innovate" activities (including regulatory sandbox, innovation and digital policy, and firm-facing direct support services). Nick also previously chaired the Global Financial Innovation Network (GFIN) and IOSCO's FinTech Network. Nick is a Certified Chartered Accountant with 9 years forensic investigative experience at the Financial Services Authority (FSA) and KPMG

In Nick's new role with AIR he will be helping to develop its relationships with financial regulatory institutions globally, including a specific focus on regulators in emerging markets. Nick represents AIR and AIR's mission in public forums through speaking and writing, sharing his views and learnings from leading innovation within a regulatory agency.

Nick is also responsible for leading the nascent AIR Fair Finance Accelerator – working with partners and the innovation ecosystem to define the scope, governance, strategy, and activities of the accelerator.

Jane is a senior technology leader with extensive experience in delivering transformative, data-focused technology in the Financial Services industry. Most recently, Jane was Managing Director at Credit Suisse, where she was the Global Head of Reference Data Technology Services. In this role, Jane successfully delivered several enterprise-wide transformation initiatives and re-shaped the global operating model of the technology organization. Prior to Credit Suisse, Jane worked in top-tier financial institutions, delivering technology solutions for Trading, Risk Management, and Operations business units. Jane earned her MS in Computer Science at Columbia University and a Bachelor of Arts at Barnard College.

Gabriele is an open source executive and technologist at heart. He spent over 15 years building developer ecosystems to deliver value through open source across Europe and the US. He thrives on driving innovation both contributing to open source communities and joining commercial open source ventures, whether it's for an early-stage tech startup, a Fortune 500 firm, or a non-profit foundation. Previously Director of Product Management at Alfresco, as Executive Director Gabriele grew the Fintech Open Source Foundation FINOS from the ground up, with the vision of creating a trusted arena for the global financial services industry to innovate faster, leveraging open source as a model of collaboration. Gabriele holds a Master in Computer Engineering, is a Committer for the Apache Software Foundation, and advises open source startups. He's a passionate soccer fan, reggae music connoisseur, and special needs dad and advocate wannabe.

Andrew Agerbak is a Partner and Director in the Technology Advantage practice at the Boston Consulting Group, where he is the firm's global topic lead for Cloud and DevOps. He has worked with financial institutions both in the UK and Europe in support of their digital transformation journeys and dealing with legacy complexity. This often includes important choices about the role of Open Source technologies like Kubernetes and OpenShift in enabling banks to exploit the benefits of major Public Cloud platforms whilst avoiding vendor lock-in. Prior to his 20+ years at BCG, Andrew held technology leadership roles at IBM and Computacenter, and he has a degree in Electronic Engineering with Computer Science from University College, London (UCL).