#KubeCrawl + #CloudNativeFest
Wed, 19 April | 18:00 – 21:00
Location: Solutions Showcase, RAI Halls 1, 2, 3 + 5
#KubeCrawl + #CloudNativeFest
One party to rule them all!
Been to KubeCon + CloudNativeCon before? You've undoubtedly come to the Welcome Reception + Booth Crawl or the All-Attendee Party (or both!) and had an amazing time connecting with fellow #TeamCloudNative members and the local culture. Together we've been to Tivoli Gardens, piano dualed, watched an artist spill coffee to create his works, crawled the haunts of Rainey Street, and dipped our toes in a pool by the Valencian palms. As our community has grown, so too have our events, and we are thrilled to provide an enhanced, integrated experience for everyone by combining the Welcome Reception + Booth Crawl and All-Attendee Party into one big celebration.
Join us for an incredible gathering of local food favorites, old Dutch games, trivia, and other activities unique to Holland, including:
Creating your own beats with a Mash Machine!
Diving into a camper bus ball pit!
Chasing the live-action as your favorite classic video game villains, Blinky, Pinky, Inky, or Clyde in Pac-Man XL!
Other fair favorites like face painting, caricaturists, the ice cream man, lego and puzzle building, and DJ Miss Brown!
Don't miss out on the latest and greatest party at your favorite tech event! We'll see you in Amsterdam!
Thank you to our sponsor!
Tue, 18 April – Fri, 21 April | 8:30 – 17:00
Location: G110, First Floor, Congress Centre
Get ready for your close up! Sessions last 10 minutes and slots are limited.
Wed, 19 April – Fri, 21 April
Location: Solutions Showcase, RAI Hall 1
Join us in the games lounge for a fun, interactive environment to unwind and challenge each other to a range of games — including arcade games, foosball, airhockey as well as card and board games. Come play and make new friends!
Thank you to our sponsor!
Mercedes-Benz Picnic Lounge
Wed, 19 April – Fri, 21 April
Location: Solutions Showcase, RAI Hall 5
Escape the conference hustle for a while and meet us at the picnic lounge to chat with like-minded developers and learn about open source and cloud topics in the automotive environment. A place to relax, meet new people and exchange ideas – come by!
Thank you to our sponsor!
Fullstaq Activation Zone
Join the VR free-roaming laser battle with KubeClash
During this edition of KubeCon + CloudNativeCon, Fullstaq has a fantastic experience ready at their Activation Zone. Challenge your partners, colleagues, and clients during KubeClash at KubeCon + CloudNativeCon! You'll fight for domination over the landing base during this next-level free-roaming Virtual Reality laser battle (the latest VR technology). Will you walk away victorious? Or do you cheer on your favorite challenger from the sidelines? Join us at Fullstaq Activation Zone!
Rancher by SUSE Activation Zone
Do you like Football? Do you like Darts? Do you just want to get rid of frustration by kicking something? Come by the Rancher by SUSE Activation Zone and play Foot Darts! It is a fun and challenging game, and there are some cool prizes available for people that prove their skills by earning high scores!
Introductory Workshop
Capture The Flag Experience
Location: G102-103 | First Floor | Congress Center
The Capture The Flag (CTF) experience runs concurrently to KubeCon + CloudNativeCon Europe 2023!
Delve deeper into the dark and mysterious world of Cloud Native security! Exploit a supply chain attack and start your journey deep inside the target infrastructure, utilize your position to hunt and collect the flags, and hopefully learn something new and wryly amusing along the way!
Attendees can play three increasingly treacherous and demanding scenarios to bushwhack their way through the dense jungle of Cloud Native security. Everybody is welcome, from beginner to seasoned veterans, as we venture amongst the low-hanging fruits of insecure configuration and scale the lofty peaks of cluster compromise! Want to know more about the CTF? Review the details here.
Wed, 19 April – Fri, 21 April | 06:30 – 07:45
Location: Meet at nhow Amsterdam RAI | Hotel Lobby
Squeeze in your daily cardio with a casual / informal group run! Meet at the nhow Amsterdam RAI hotel (right next to RAI Amsterdam) at 06:30 for a 06:45 departure. The run will last one hour at the group's pace.
RE:CHARGE LOUNGE
Wed, 19 April – Fri, 21 April
Location: Solutions Showcase, RAI Hall 1
As has become custom at KubeCon + CloudNativeCon we will have multiple offerings to keep our attendees healthy and happy in both body and mind. Check out the wellness section of the Re:Charge Lounge in the Solutions Showcase (near the main doors coming from Entrance K) that will feature:
WeWatt bikes | Recharge your body AND your phone – pedal those legs to give your device some much needed juice!
Chair massage therapists | Sign up in the lounge for time with an onsite masseuse to relieve some neck and shoulder tension. Space is limited. First come, first served.
Creative Corner | Give your left-brain a break and fire up your right! Various activities may include coloring, painting, puzzling, and clay molding.
Wed, 19 April – Fri, 21 April
Location: Open Space Sessions Lounge in the Solutions Showcase
The Open Space Sessions allow attendees with common interests to gather and discuss topics and projects that promote community growth through informal discussion. To encourage open and inclusive dialogue, Chatham House Rules will apply.
These sessions will be held in 45 minute blocks Wednesday – Friday, 19-21 April in the Open Space Sessions Lounge in the Solutions Showcase.
Open Space Sessions are open to all in-person attendees, seating is limited and will be on a first come, first served basis. An Open Space Sessions Slack channel will be available to continue conversations.
If you would like to lead an open spaces session, please complete this form. Approved Open Space Sessions will be listed in Sched and topics listed on a monitor in Open Space Sessions area of the Solutions Showcase.
Wed, 19 April – Fri, 21 April
Locations: Cloud Native Security Sessions + Experiences

Security Tracks | Auditorium + Emerald Room | Ground + First Floor
Afternoon Security Unconference | Onyx Lounge | Ground Floor
Capture The Flag (Thursday) | G102-103 | First Floor | Congress Center
Are you disappointed there won't be a 0-day event for Security? Don't be! Instead, come check out the new Security Village located inside KubeCon EU throughout the conference. The Security Village will be a dedicated space for attendees to learn, share, and collaborate about the latest security practices and tools in the Kubernetes and cloud-native ecosystem. The village will feature a series of talks, open spaces for security-related discussions, and a daily afternoon unconference. Discover a range of security-related topics, from securing software supply chains to implementing zero-trust security, managing security for cloud-native infrastructure and applications, or building a security-first culture. Each morning you can come to the village to submit topics for that afternoon's unconference session. Industry experts, practitioners, and YOU will be able to share experiences and insights. Help us make the Security Village an inclusive and engaging destination for anyone interested in securing their cloud-native journey.
Documentary Film Screening:
Inside Envoy – The Proxy for the Future
Thu, 20 April | 18:15 – 19:00
Location: Forum Center | Forum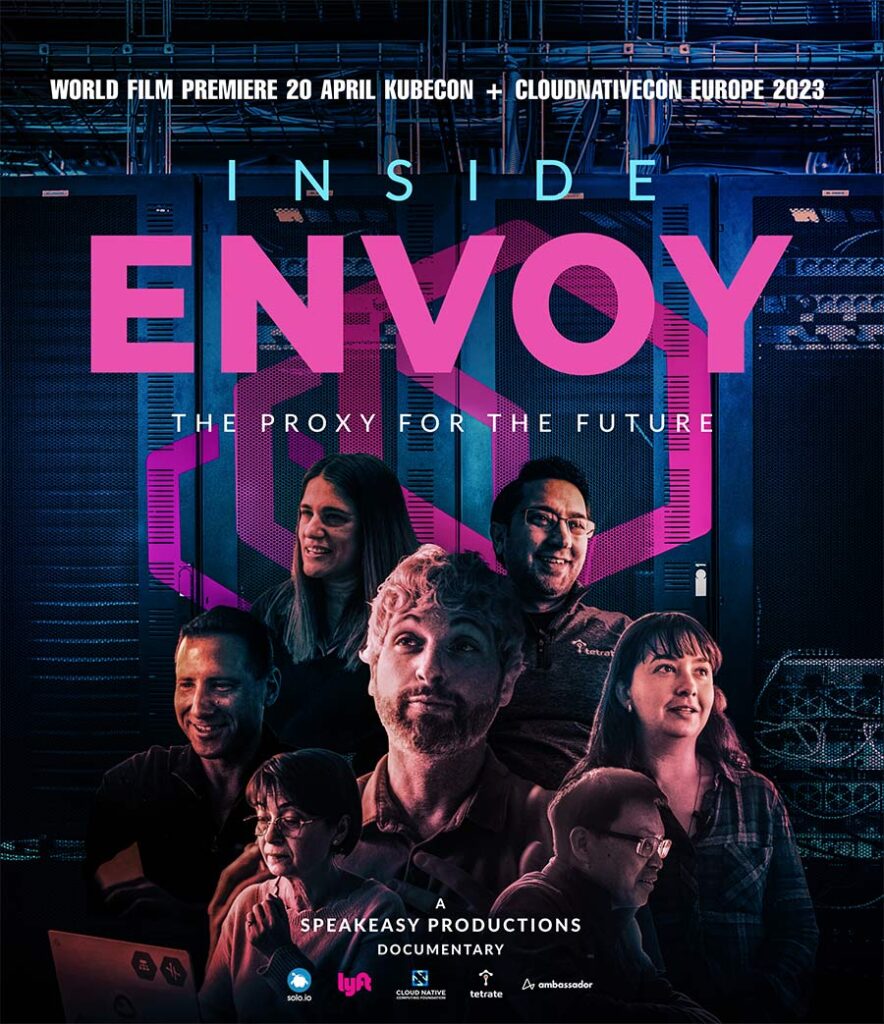 Join us for the world premiere of Inside Envoy, a captivating documentary that delves into the origins and rapid ascent of one of the most significant open source projects in the community today. This groundbreaking film will transport you to the forefront of the action, where you'll witness firsthand how the project emerged as an in-house solution within ride-share giant Lyft, before rapidly evolving into an innovation that has defined the careers of those who helped create a proxy that fundamentally transformed the industry. You'll follow the journeys of many of the most talented engineers in the field as they recount the story like never before, providing a behind-the-scenes look at the remarkable rise of this industry-changing project.