September 19 – 21, 2023
Bilbao, Spain
#OSSummit
Thank you for Attending
Thank you to all who joined us for Open Source Summit Europe 2023!
We look forward to seeing you at future events.
Videos
To experience the best of this year's event, be sure to watch session recordings, available on the The Linux Foundation's YouTube Channel.
Presentations
Review session slides from speakers who provided them via the event schedule.
Open Source Summit is the premier event for open source developers, technologists, and community leaders to collaborate, share information, solve problems, and gain knowledge, furthering open source innovation and ensuring a sustainable open source ecosystem. It is the gathering place for open-source code and community contributors.
Open Source Summit is a conference umbrella, composed of a collection of events covering the most important technologies, topics, and issues affecting open source today.
OS Summit Europe 2023 Events
Become a sponsor
Partnering with Open Source Summit provides a unique opportunity to connect with a variety of open source communities under one roof! Don't miss your chance to sponsor THE premier event for open source code and community contributors.
Cristina Bentué

Co-founder and COO, IriusRisk

Gabriele is an open source executive and technologist at heart. He spent over 15 years building developer ecosystems to deliver value through open source across Europe and the US. He thrives on driving innovation both contributing to open source communities and joining commercial open source ventures, whether it's for an early-stage tech startup, a Fortune 500 firm, or a non-profit foundation. Previously Director of Product Management at Alfresco, as Executive Director Gabriele grew the Fintech Open Source Foundation FINOS from the ground up, with the vision of creating a trusted arena for the global financial services industry to innovate faster, leveraging open source as a model of collaboration. Gabriele holds a Master in Computer Engineering, is a Committer for the Apache Software Foundation, and advises open source startups. He's a passionate soccer fan, reggae music connoisseur, and special needs dad and advocate wannabe.

Jonathan Katz is a Principal Product Manager – Technical on the Amazon RDS team and is based in New York. He is a Core Team member of the open source PostgreSQL project and an active open source contributor.

Fatima is a Developer Evangelist at GitLab and the voice of the community. She loves coding challenges and storytelling. Before GitLab, she was a backend developer, Drupal core contributor, and mentoring lead. In 2018, she received the Women in Communications & Technology (WCT) Rising Star leadership award for her efforts in teaching and advocacy. When she's not playing board games, beating escape rooms, or playing co-op adventures with friends, you can find Fatima reading by the ocean.

Fiona Krakenbürger

Co-Founder, Sovereign Tech Fund

Dave Lago is a seasoned engineering manager at Amazon Web Services (AWS), where he leads a team focused on enhancing the security of OpenSearch. With strong background in software engineering and a passion for open source, Dave has dedicated his career to creating and maintaining secure, scalable, and accessible technology.

Marie Austenaa leads Digital Identity for Visa. She has worked in digital identity since 2014, when she led GSMA's global programme on Digital Identity for mobile operators around the world and later at Signicat – one of the leading digital identity service providers in Europe. Prior to this, Marie has held leadership roles at Telenor and Vodafone to develop new digital services. Her expertise and leadership have been instrumental in shaping the digital landscape and driving innovation in the industry. Marie currently serves as the Board Chair for the Open Wallet Foundation (Linux Foundation).

Vivek Mahajan is a global business leader as well as an innovation and technology executive with extensive experience working in number of global leading corporations including Tandem Computers, General Electric, Siebel Systems, Oracle and IBM.  

He joined Fujitsu in July 2021 as the Global Chief Technology Officer. His mission is to establish Fujitsu as a leading global technology company known for innovative technology leadership.

Before joining Fujitsu, he worked at IBM Corporation as the Global General Manager for Technology Support and Services, as well as the Chief Revenue Officer for IBM Cloud in addition to previous roles leading Global services, Software product division, and Sales and Marketing.

After graduating from Master's program in electrical engineering and an MBA in Finance/Accounting, he started his career in Silicon Valley as an information technology specialist. Vivek has lived and worked globally including in United States, Australia, Singapore, Japan.

Ed Parsons is Google's Geospatial Technologist, with responsibility for evangelising Google's mission to organise the world's information using geography. In this role he maintains links with Governments, Universities, Research and Standards Organisations which are involved in the development of Geospatial Technology.
He is a member of the Board of Directors of the Open Geospatial Consortium and was co-chair of the W3C/OGC Spatial Data on the Web Working Group. He also represents Google at the EMTEL committee of ETSI developing geospatial solutions for emergency telecommunications.

He is a Visiting Professor at University College London and has been an industry advisor to a number of international universities.

Ed is based in Google's London office, and anywhere else he can plug in his laptop.

Ed was the first Chief Technology Officer in the 200-year-old history of Ordnance Survey, and was instrumental in moving the focus of the organisation from mapping to Geographical Information. He came to the Ordnance Survey from Autodesk, where he was EMEA Applications Manager for the Geographical Information Systems (GIS) Division.

He earned a Masters degree in Applied Remote Sensing from Cranfield Institute of Technology, holds a Honorary Doctorate in Science from Kingston University, London. and is a fellow of both the Royal Geographical Society, and the Royal Institute of Navigation .

Ed is married with two children and lives in South West London.

Patrick von Platen is a team lead at Hugging Face, the creator of the Diffusers library and a core maintainer of the Transformers library. 

He specializes in generative AI for image, text, and audio.

Before joining Hugging Face, Patrick conducted research in speech recognition at Uber AI, Cambridge University, and RWTH Aachen University.

Nithya A. Ruff is the Head of Amazon's Open Source Program Office. Open Source has proven
to be one of the world's most prolific enablers of innovation and collaboration and Amazon's
customers increasingly value open source innovation and the and cloud's role in helping them
adopt and run important open source services. She drives open source culture and
coordination inside of Amazon and engagement with external communities. Prior to Amazon,
she started and grew Comcast and Western Digital's Open Source Program Offices. Open
Source Program Offices are a critical part of a company's digital transformation and innovation
journey.

Nithya has been director-at-large on the Linux Foundation Board for the last 5 years and in
2019 was elected to be Chair of the influential Linux Foundation Board. She works actively to
advance the mission of the Linux Foundation around building sustainable ecosystems that are
built on open collaboration. She is a passionate advocate and a speaker for opening doors to
new and diverse people in technology and can often be seen speaking and writing on this topic.
Nithya graduated with an M.S. in Computer Science from NDSU and an MBA from the
University of Rochester, Simon Business School and is an aspiring corporate board director and
governance enthusiast. You can follow her on twitter @nithyaruff and you can find her
on https://www.linkedin.com/in/nithyaruff/

Tara Tarakiyee

Technologist, Sovereign Tech Fund

Jonathan Vila is Developer Advocate at Sonar. He is a Java Champion and cofounder of JBCNConf & DevBcn, an organizer at BarcelonaJUG, and a member of BarcelonaJUG. He had been a sought-after speaker at several conferences including DevNexus, OracleCodeOne, DevoxxUK, JNation, DevConf.IN , DevConf.US, JFokus.

Bryan Che is Chief Strategy Officer at Huawei. There, he leads Huawei's vision and strategy across its overall businesses and portfolio, which spans mobile and consumer electronics, telecommunications, and cloud and AI.

Bryan has tremendous experience building new enterprise businesses and open source technologies. In the open source community, Bryan serves as a board director across various key organizations, including Cloud Native Computing
Foundation (CNCF), Open 3D Foundation (O3DE), and Eclipse Foundation. As an American expat employed in China who has traveled more than 3 million miles to over 40 countries, Bryan has worked extensively with many customers and partners around the world.

Bryan graduated with his Bachelor and Masters degrees in computer science from MIT.

Joined Huawei in 2011 and is now a senior expert in ICT operating systems. Since 2020, he has served as the Chairman of the openEuler Technical Committee and is responsible for the overall technical direction management of the openEuler Community.

Ola Ben Har is the global Developer Relations Lead for Payments at Google, covering a broad set of products such as Google Wallet, Google Pay and Chrome Autofill for Payments. She brings over a decade of experience in managing developer engagement programs across multiple product areas and has been instrumental in setting the vision, developer strategy and go-to-market efforts for these products. Ola Ben Har owns all open source efforts for Payments and Wallet at Google. The open source tools built by the team are used by hundreds of thousands of developers today. 

Ola Ben Har is a member of the Governing Board at the OpenWallet Foundation (Linux Foundation) representing Google as a relying party, Google Wallet as well as Android and Chrome. 

Jim's career spans three of the largest technology trends to rise over the last decade: mobile computing, cloud computing and open source software. Today, as executive director of The Linux Foundation, he uses this experience to accelerate innovation in technology through the use of open source and Linux.

At The Linux Foundation, Jim works with the world's largest technology companies, including IBM, Intel, Google, Samsung, Qualcomm, and others to help define the future of computing on the server, in the cloud, and on a variety of new mobile computing devices. His work at the vendor-neutral Linux Foundation gives him a unique and aggregate perspective on the global technology industry.

Jim has been recognized for his insights on the changing economics of the technology industry. His writing has appeared in Businessweek, Wired, and other top technology journals, and he is a regular keynote speaker at industry events. He advises a variety of startups, including Splashtop, and sits on the boards of the Global Economic Symposium, Open Source For America, and Chinese Open Source Promotion Union.
you've been waiting
for this
Thousands of attendees come to Open Source Summit Europe to learn from each other, move forward together, and celebrate what's next. Whether you're a developer, architect, sysadmin, community manager, student, or something in-between, you'll…
MeeT
Face-to-face problem-solving, discussions, and collaboration
Learn
Learn about the latest trends in open source and open technologies
Access
Access to leading experts that will help guide you through a complex OS environment
accel
Gain a competitive advantage by learning about the latest in innovative open solutions
discover
Discover what industry-leading companies and projects are working on and where technologies are headed
explore
Explore career opportunities with the world's leading technology companies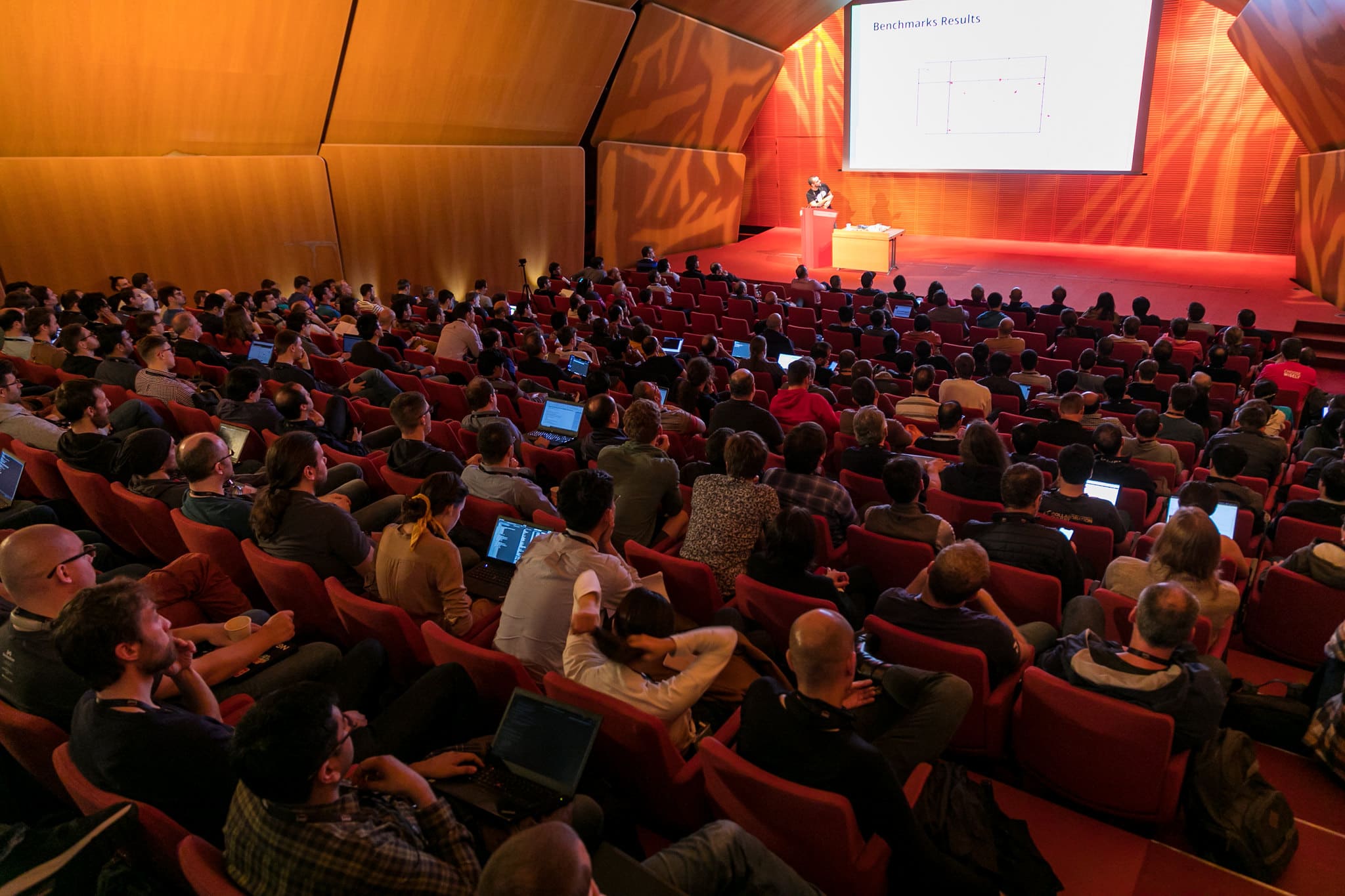 "Open Source Summit is a fundamental gathering place for exchanging ideas across projects and meeting all of the people who make open source communities work."
Schedule at a Glance
| | |
| --- | --- |
| Monday, September 18 | Co-located Events & Mini-Summits |
| Tuesday, September 19 | Keynotes, Breakout Sessions, Sponsor Showcase, and Attendee Reception |
| Wednesday, September 20 | Keynotes, Breakout Sessions, Sponsor Showcase, and Onsite Reception & Booth Crawl |
| Thursday, September 21 | Keynotes, Breakout Sessions, and Sponsor Showcase |
*Evening events are subject to change