Weeks
Days
Hours
Minutes
Seconds
Open Source Summit is the premier event for open source developers, technologists, and community leaders to collaborate, share information, solve problems, and gain knowledge, furthering open source innovation and ensuring a sustainable open source ecosystem. It is the gathering place for open-source code and community contributors.
Open Source Summit is a conference umbrella, composed of a collection of events covering the most important technologies, topics, and issues affecting open source today.
OS Summit North America 2022 Events
Become a sponsor
Partnering with Open Source Summit provides a unique opportunity to connect with a variety of open source communities under one roof! Don't miss your chance to sponsor THE premier event for open source code and community contributors.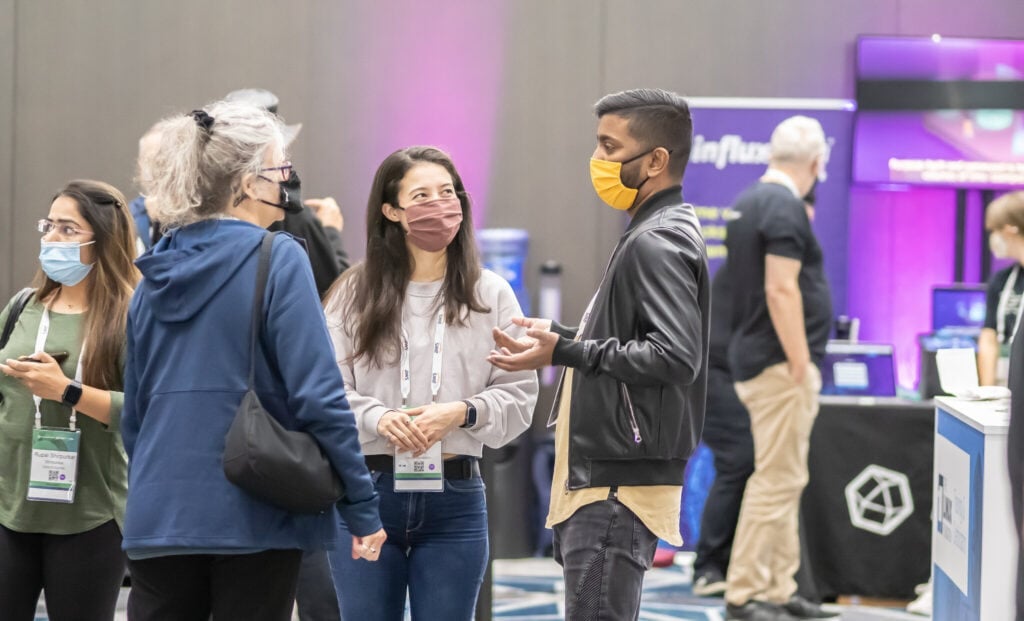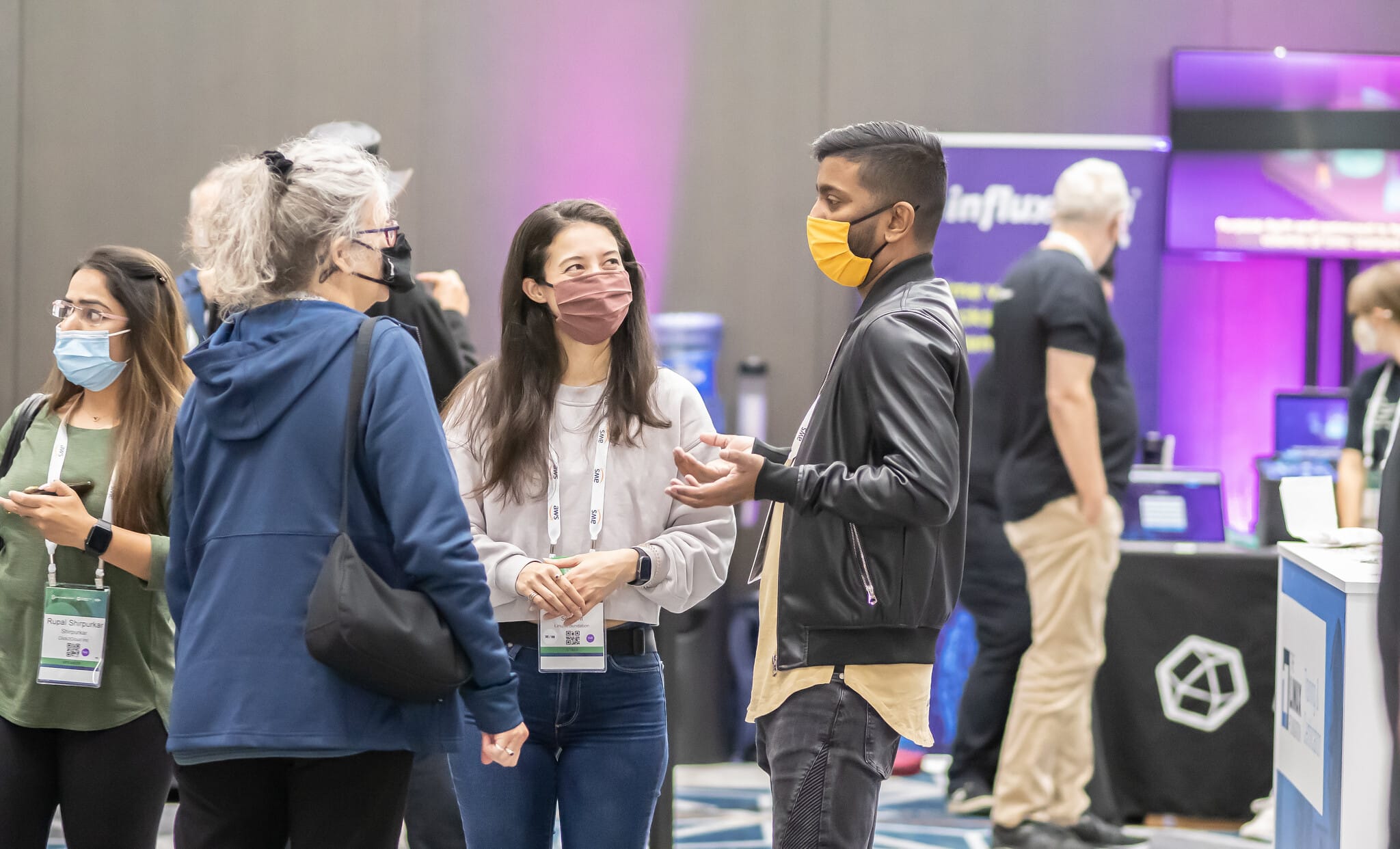 you've been waiting
for this
Thousands of attendees come to Open Source Summit North America to learn from each other and celebrate what's next. Whether you're a developer, architect, sysadmin, community manager, student, or something in-between, you'll…
MeeT
Face-to-face problem-solving, discussions, and collaboration
Learn
Learn about the latest trends in open source and open technologies
Access
Access to leading experts that will help guide you through a complex OS environment
accel
Gain a competitive advantage by learning about the latest in innovative open solutions
discover
Discover what industry-leading companies and projects are working on and where technologies are headed
explore
Explore career opportunities with the world's leading technology companies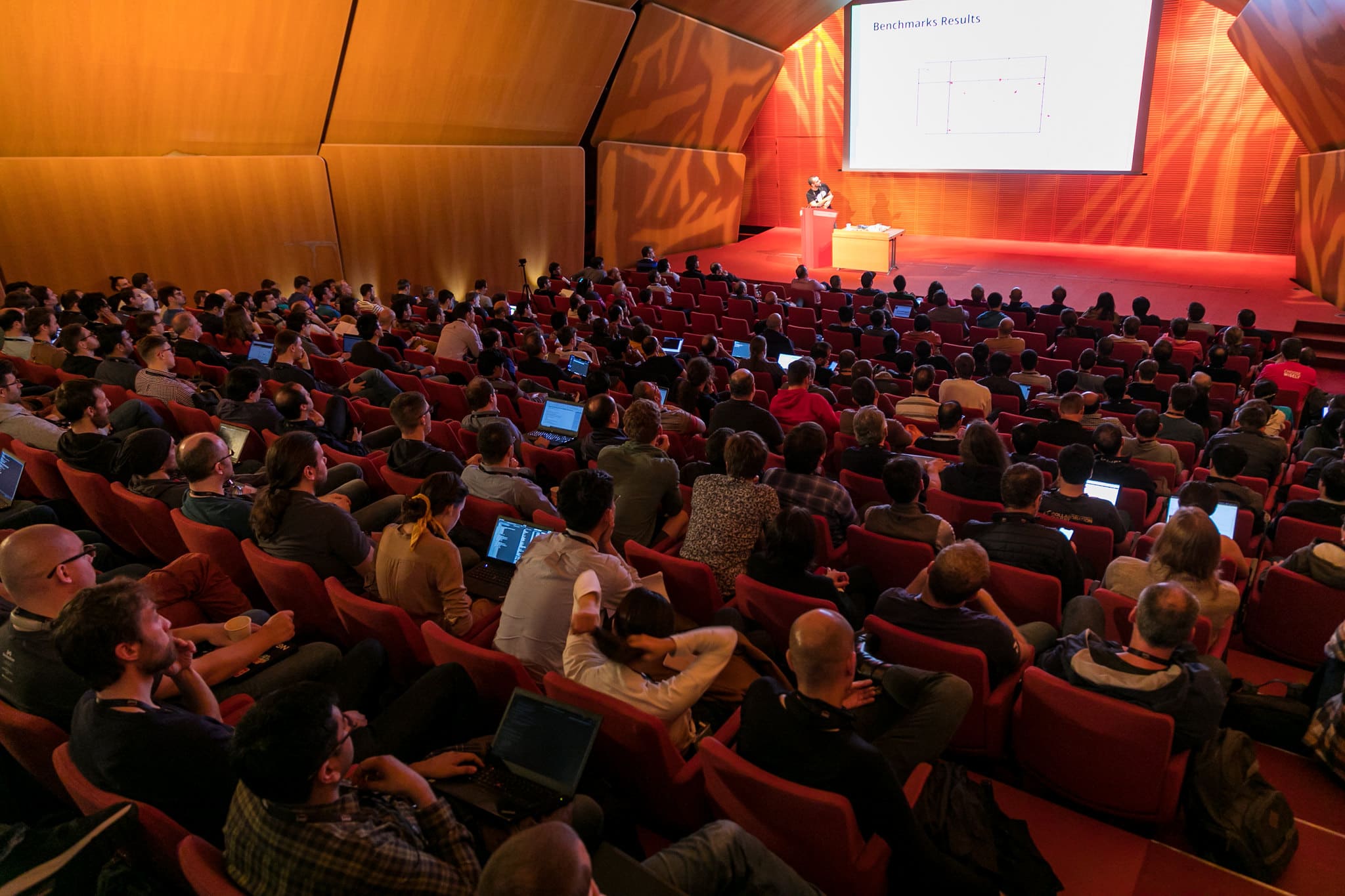 "Open Source Summit is a fundamental gathering place for exchanging ideas across projects and meeting all of the people who make open source communities work."
THE ONSITE EXPERIENCE
schedule at-a-glance
All times are shown in Central Daylight Time (CDT), UTC-5.
Monday, June 20
9:00 AM – 5:30 PM
Project Mini-Summits & Co-located Events

12:00 – 5:00 PM
Kid's Day

5:30 – 7:00 PM
Better Together Diversity Social
Tuesday, June 21
7:30 – 9:00 AM
First Time Attendee Breakfast

9:00 – 10:30 AM
Keynote Sessions

11:00 AM – 5:25 PM
Breakout Sessions

12:00 – 1:30 PM
Women in Open Source Lunch

6:00 – 9:00 PM
All-Attendee Reception
Wednesday, June 22
9:00 – 10:30 AM
Keynote Sessions

11:00 AM – 6:00 PM
Breakout Sessions

6:00 – 7:30 PM
Onsite Reception & Sponsor Showcase
Thursday, June 23
9:00 – 10:30 AM
Keynote Sessions

11:00 AM – 6:25 PM
Breakout Sessions

6:00 – 7:30 PM
Partner Reception (By Invitation Only)
Friday, June 24
9:00 – 10:30 AM
Keynote Sessions

11:00 AM – 5:30 PM
Breakout Sessions
featured KEYNOTE speakers
Those are just a few of the words used to describe Alena Wicker, who at 12-years old is already a college sophomore as a Pre-Med Biological Sciences student, but that's only part of her story.

With a bold dream Alena became the youngest girl of color to work and intern at NASA. She is also using her voice by launching her own platforms, including The Brown STEM Girl™, The Brown STEM Girl Foundation™ and Brainiac World Media™.

Through The Brown STEM Girl, Alena has received eight proclamations declaring April 30th as Brown STEM Girl STEM™ in the City Day Honoring Women of Color in STEM. This day is also set

aside to engage girls of color, ages 10-17 in STEM activities and will be hosted all across the United States of America.

Alena has received international acclaim through her features on Good Morning America, The Kelly and Ryan Show, Black Entertainment Television, and a host of news outlets throughout the world. In addition, she has also been honored by the Phoenix Mercury (WNBA) as part of their Believe in Women campaign.

Alena was not only both traditionally schooled and homeschooled but she was also world schooled. She is an experienced world traveler which enabled her to attend school in Amman, the capital of Jordan, a city located in the Middle East.

LEGO® sets, Robotics, and NASA are the things that excite Alena. It started at 4-years old when she began traveling to NASA sites to fuel her passion. Phenom. Prodigy. Whiz kid. Those words don't fully describe the essence of Alena Analeigh. Her intellectual brilliance is only a glimpse into who she is. It's the depth of her warm-heartedness, quiet spirit, and gracious nature that sets her apart even more.

With a clear vision, Alena is on the path to knock down doors for other brown STEM girls, just like her.

Jennings R. Aske is Senior Vice President, Chief Information Security Officer for NewYork-Presbyterian. In this role, he is responsible for leading the hospital's information security and business continuity programs, as well leading the Medical Staff Office. Mr. Aske joined NewYork-Presbyterian in 2015. Previously, he served as Vice President of Information Security and Chief Information Security Officer of Nuance Communications. Prior to working at Nuance, he served in Chief Information Security Officer roles at Partners HealthCare, UMass Memorial Medical Center, and the Commonwealth of Massachusetts' Executive Office of Health and Human Services. Mr. Aske received his Bachelor's and Master's from the State University of New York, and his law degree from Boston University School of Law. He was also an editor of the American Journal of Law & Medicine.

Aeva Black is a queer geek and an open source technology architect, with a 20-year career leading teams at both startups and Fortune 100 companies. They are presently the Open Source Aeva Black is an incurably queer geek with a penchant for ancient languages, who was briefly a physics major and may have solved time travel¹. Today, they're an open source hacker in Azure's Office of the CTO, focusing on supply chain security and community safety while holding seats on the OSI Board and the OpenSSF TAC. On a previous timeline, they were a database admin and hardware hacker who wrote a lot of code and founded the OpenStack Ironic project. (¹ not really)

Eric joined Google in 2011 and leads the company's compute infrastructure design, including Google Cloud Platform, Kubernetes and Anthos. A recent focus is security for open-source software, including supply chain risks and helping start the OpenSSF.

As a researcher, he has led projects on scalable servers, network infrastructure, IoT, and the CAP Theorem. He has also led work on technology for developing regions, with projects in India, the Philippines, and Kenya among others, and including communications, power, and health care.

In 1996, he co-founded Inktomi Corporation and helped lead it onto the NASDAQ 100. In 2000, working with President Clinton, Prof. Brewer helped to create USA.gov, the official portal of the Federal government.

Major awards include membership in the NAE and AAAS, the ACM Prize in Computing, and the ACM SIGOPS Mark Weiser Award.

Matt Butcher (CEO) is a founder of Fermyon. He is one of the original creators of Helm, Brigade, CNAB, OAM, Glide, and Krustlet. He has written or co-written many books, including "Learning Helm" and "Go in Practice." He is a co-creator of the "Illustrated Children's Guide to Kubernetes" series. These days, he works mostly on WebAssembly projects such as Spin, Bindle, and Bartholomew. Matt holds a Ph.D. in Philosophy. He lives in Colorado.

Hilary Carter is VP Research at the Linux Foundation, a San Francisco-based non-profit technology consortium. Here, Hilary recently launched Linux Foundation Research, a division dedicated to creating and sharing decision-useful insights on the subjects that matter in the world of open source technologies and standards which underpin much of the digital infrastructure on which the global economy depends.Previously, Hilary launched and operated the Blockchain Research Institute's Syndicated Research Program where she managed the BRI's research team, staff, and the member and partner ecosystem.
Hilary is the author of a number of blockchain-specific research projects. Her titles include Social Media on the Blockchain (2018); Blockchain for Saving Our Seas (2019); and Journey to Blockchain: A non-technologist's guide to the Internet of value (2019). With Don Tapscott and Jill Rundle she co-authored Networked Hotbeds of Blockchain: Creating Global Hubs for the Internet's Second Era (2018). Hilary also contributed to Don Tapscott and Alex Tapscott's Blockchain Solutions in Pandemics (2020), and New Directions for Government in the Second Era of the Digital Age (Tapscott, Williams, Sandberg, 2021).
A sought after thought leader, Hilary has been featured by the CBC, Globe and Mail, CTV News, Global News, and other media outlets for her expertise on blockchain and digital transformation. She is a regular speaker at technology industry conferences including Blockchain Revolution Global, Blockchain Live, Hyperledger Member Forum, and United Nations Blockchain for Impact Summit.
Hilary's career began in financial services with experiences in Corporate Finance, Research and Analysis, and Global Private Banking. Her career pivoted to digital technology where she focused on mobile communications and digital media consulting, working with the C-Suite. Her writing on digital transformation has been featured in the Globe and Mail on topics such as diversity in blockchain, digital leadership, professional online branding, innovation and entrepreneurship, and leadership with disability.
In addition to her role at the Linux Foundation, Hilary serves as an advisor to technology startups including VeriTX, a blockchain-based manufacturing and supply chains solution serving the aerospace and healthcare markets, and LinkSports, a blockchain-based microfinance and sponsorship platform for aspiring athletes. She earned a Master of Science from the London School of Economics and holds both Canadian and Irish citizenship.

I work on infrastructure tools that enable innovation. I specialize in Kubernetes, Terraform, public clouds, and distributed systems. You can also find me buried deep in a book, preparing a technical talk, or running with my partner, Hannabeth, and our two dogs

Melissa E. Evers is vice president in the Software and Advanced Technology Group (SATG) and general manager of the Strategy to Execution organization at Intel Corporation. She manages a portfolio of capabilities including SATG PMO, Gladius PMO, Execution Enabling, Flex Services, Software and Ecosystem Sustainability Office, Open. Intel Office and leads Intel's SW Transformation initiatives. She is SATG's executive sponsor to its diversity and inclusion initiatives and co-sponsor of the AXG, SATG and Office of the CTO's Senior Women Cohort. Melissa was recently announced as the Intel Latinx Network Executive Sponsor. Outside of Intel, she serves on the governing board of the Linux Foundation and has served in many other Open Source and Industry Governing boards from CNCF, Open Infrastructure Foundation, Google's Modern Computing Alliance, and Linux Foundation Edge.

Before her current Intel role, Melissa worked across system software development in open-source communities, from device to edge to cloud. She has led global development organizations across a breadth of system software, including Android, Chrome, graphics, media, OpenStack, and Cloud Native Computing. In 2017, her contributions to Chrome OS earned her an Intel Achievement Award, the company's highest recognition. Since joining Intel in 2004, Evers has worked across engineering, finance, and product management functions. Before joining Intel, she worked at Dell Inc. and Exxon Mobil Corp.

Melissa holds a bachelor's degree in engineering from the University of Texas at Austin. She also earned an MBA degree from the University's McCombs School of Business. An active champion of diversity and inclusion, she has mentored and supported career advising throughout her career. She stood on the inaugural board of the Forte Foundation and served for three years. As a certified coach, she frequently coaches leaders internally and externally. Melissa is also a frequent keynote speaker on career development, leadership and at industry events.

Amy Gilliland is president of General Dynamics Information Technology (GDIT), a business unit of General Dynamics Corporation. GDIT is a $8.5B global technology enterprise with operations in 30 countries worldwide and 30,000 technologists and services professionals delivering critical mission capabilities across defense, civilian and intelligence agencies. Gilliland has more than 25 years of public sector experience including service in the U.S. Navy and nearly two decades in leadership positions at General Dynamics.

Under Gilliland's leadership, GDIT has embarked on a growth strategy focused on in-demand technology market areas such as artificial intelligence/machine learning, cloud and cybersecurity. This strategy includes building a diverse network of partners that bring commercial technology to government missions, resulting in more innovative solutions.

As president, Gilliland has built an employee-focused culture that delivers mission critical solutions with speed and accountability. This involves equipping the workforce with advanced technical skills and certifications and developing thousands of early career professionals to meet the evolving requirements of customers today and into the future.

Prior to her current role as president, Gilliland served as deputy for operations at GDIT. She has also held a variety of leadership roles at General Dynamics including senior vice president of human resources and administration, chief of staff for the chief executive officer and staff vice president of strategic planning, and staff vice president of investor relations.

Before joining General Dynamics, Gilliland served in the U.S. Navy as a Surface Warfare Officer, Congressional Affairs Liaison Officer and Public Affairs Officer.

She earned a bachelor's degree with distinction from the U.S. Naval Academy, a master's degree from Cambridge University and a master's degree in business administration from Georgetown University.

Gilliland was elected to the Board of Directors of BNY Mellon in April 2021 and is a member of the Board of the Northern Virginia Technology Council. She has been recognized as one of Virginia Business Magazine's 50 Most influential Virginians and is a four-time Wash100 award winner with her most recent award in 2021. She is also involved in raising Rett Syndrome awareness through the Rett Syndrome Research Trust.

Dirk is the Chief Open Source Officer of the Cardano Foundation, focused on creating a vibrant open source third party contribution ecosystem for the Cardano infrastructure. Dirk was previously VMware's Chief Open Source Officer, where he lead the company's Open Source Program Office, directing the efforts and strategy around use of and contribution to open-source projects and driving common values and processes across the company for VMware's interaction with the open-source communities. Before joining VMware, Dirk spent almost 15 years as Intel's Chief Linux and Open Source Technologist. Before that, among other roles, he worked as Chief Technology Officer of SuSE and Unix Architect of Deutsche Bank. Dirk has been an active developer and contributor in several dozen open source projects since the early 1990s, today most of his work is on the Subsurface dive log project and many of the related open source projects around that. Dirk holds a degree in Mathematics and Computer Science from the University of Würzburg, Germany. He lives in Portland, OR.

Orion Jean is an 11-year-old 6th grader from Texas.

After winning a national kindness speech contest, he used his prize money to start the "Race to Kindness" campaign. His initiatives include the "Race to 500 Toys," Race to 100,000 Meals," and "Race to 500,000 Books."

His pursuit of kindness is fueled by this simple mantra- "If you see a problem, fix it."

He is the author of A Kids Book About Leadership; a book focused on inspiring the young (and young-at-heart) to develop the leader inside of them. He is also the host of an upcoming podcast, Growing up with Orion Jean focused on asking icons, legends, and changemakers about the "one thing" they wish they knew at his age.

Orion was also selected as the 2021 TIME "Kid of the Year." He has been featured on Ellen, Good Morning America, The Kelly Clarkson Show, CBS Evening News, ABC World News, and numerous local, national and international media outlets.

Learn more at: TopYouthSpeakers.com

Todd Moore, IBM VP of Open Technology, IBM Developer and Developer Advocacy, leads the global IBM team developing open source technologies and working in open communities. Using both digital assets and face to face interaction with developers, he seeks to build developer confidence and capabilities to solve Cloud Native, AI, Blockchain and Quantum computing challenges. Over his career, Todd and his team of developers have worked with leading open source communities such as the Apache Software Foundation, Linux Foundation, Eclipse, OpenStack, Cloud Foundry, Docker, CNCF, JS Foundation, Node.js and more to develop great code and spread best practices. He currently serves as Chairperson of both the OpenJS Foundation Board of Directors and the CNCF Governing Board. "If you consume open source code, you need to give back to the community just as much and more." are the words he lives by.

Melissa Smolensky

Vice President, Corporate Marketing, GitLab

Linus was born on December 28, 1969, in Helsinki, Finland. He enrolled at the University of Helsinki in 1988, graduating with a master's degree in computer science. His M.Sc. thesis was titled "Linux: A Portable Operating System" and was the genesis for what would become the most important collaborative software project in history. In August 1991, Linus announced that he was developing the Linux kernel, proclaiming, "it won't be big and professional." Never in the history of technology has someone been so wrong. In spite of his humble proclamation, Linux has become the world's most pervasive operating system. Today the Linux kernel forms the basis of the Linux operating system and powers billions of Android devices, powers ChromeOS, and has permeated almost every industry and form factor. Smartphones, TVs, appliances, cars, nuclear submarines, air traffic control, stock exchanges, and scientific research all run Linux. Linux also provides the underpinnings of the internet and the cloud computing industry. In 2005, citing a lack of free and open-source version control tools that met his needs for performance and scale, Linus famously created Git in only 10 days. Today Git is widely used in software development and for other version-control tasks such as configuration management and has become popular as an integral part of the DevOps culture. In 2000, Linus was listed by Time Magazine as Number 17 in the Time 100: Most Important People of the Century. Again, in 2004, Time Magazine named him one of the Most Influential People in the world. He was honored in 2008 with the Millennium Technology Prize by the Technology Academy Finland, "in recognition of his creation of a new open-source operating system for computers leading to the widely used Linux kernel." He is also the recipient of the 2014 IEEE Computer Society Computer Pioneer Award. A true tech titan, he was admitted to the Computer History Museum Hall of Fellows, joining the ranks of the tech elite including Rear Admiral Grace Murray Hopper, Tim Berners-Lee, Gordon Moore, Ken Thompson, Dennis Ritchie, Steve Wozniak, and others. Torvalds remains the ultimate authority on what new code is incorporated into the standard Linux kernel.

Chris Wright is senior vice president and chief technology officer (CTO) at Red Hat. Wright leads the Office of the CTO, which is responsible for incubating emerging technologies and developing forward-looking perspectives on innovations such as artificial intelligence, cloud computing, distributed storage, software defined networking and network functions virtualization, containers, automation and continuous delivery, and distributed ledger.

During his more than 20 years as a software engineer, Wright has worked in the telecommunications industry on high availability and distributed systems, and in the Linux industry on security, virtualization, and networking. He has been a Linux developer for more than 15 years, most of that time spent working deep in the Linux kernel. He is passionate about open source software serving as the foundation for next generation IT systems.

Jim's career spans three of the largest technology trends to rise over the last decade: mobile computing, cloud computing and open source software. Today, as executive director of The Linux Foundation, he uses this experience to accelerate innovation in technology through the use of open source and Linux.

At The Linux Foundation, Jim works with the world's largest technology companies, including IBM, Intel, Google, Samsung, Qualcomm, and others to help define the future of computing on the server, in the cloud, and on a variety of new mobile computing devices. His work at the vendor-neutral Linux Foundation gives him a unique and aggregate perspective on the global technology industry.

Jim has been recognized for his insights on the changing economics of the technology industry. His writing has appeared in Businessweek, Wired, and other top technology journals, and he is a regular keynote speaker at industry events. He advises a variety of startups, including Splashtop, and sits on the boards of the Global Economic Symposium, Open Source For America, and Chinese Open Source Promotion Union.