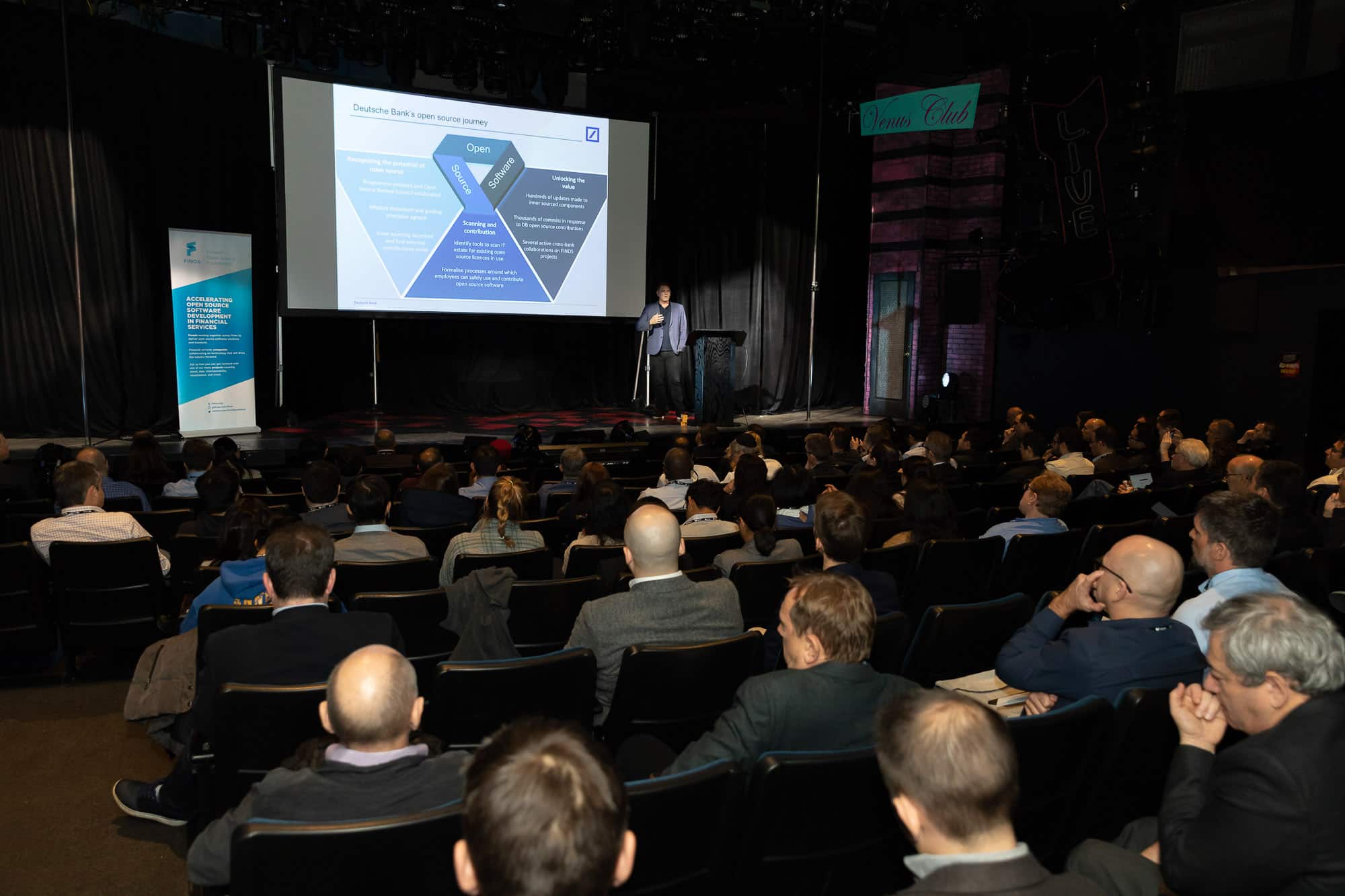 November 9-10, 2021
November 9: FINOS Member Meetings
November 10: Sessions
New York, NY | #OSfinserv
That's a wrap on Open Source Strategy Forum New York 2021. Thank you to all our attendees, speakers, and sponsors! All session recordings will be uploaded to our YouTube channel and the FINOS website shortly.
We're working to make plans for the next OSSF events in 2022, and we'll let you know as soon as those dates are confirmed.
Open Source Strategy Forum (OSSF) is the only conference dedicated to driving collaboration and innovation in financial services through open source software and standards. We bring together experts across financial services, technology, and open source to engage our community in stimulating and thought-provoking conversations about how to best (and safely) leverage open source software to solve industry challenges.
Jo Ann Barefoot is CEO & Founder of AIR – the Alliance for Innovative Regulation, Cofounder of Hummingbird Regtech, and host of the podcast show Barefoot Innovation. A noted advocate of "regulation innovation," Jo Ann is Senior Fellow Emerita at the Harvard Kennedy School Center for Business & Government. She has been Deputy Comptroller of the Currency, partner at KPMG, Co-Chairman of Treliant Risk Advisors, and staff member at the U.S. Senate Banking Committee. She's an angel investor, serves on the board of Oportun, serves on the fintech advisory committee for FINRA, is a member of the Milken Institute U.S. FinTech Advisory Committee, and is a member of the California Blockchain Working Group Advisory Board. Jo Ann chairs the board of directors of FinRegLab, previously chaired the board of the Financial Health Network, and previously served on the CFPB's Consumer Advisory Board. In 2020 Jo Ann was inducted into the Fintech Hall of Fame by CB Insights.

Gabriele is an open source executive and technologist at heart. He spent over 15 years building developer ecosystems to deliver value through open source across Europe and the US. He thrives on driving innovation both contributing to open source communities and joining commercial open source ventures, whether it's for an early-stage tech startup, a Fortune 500 firm, or a non-profit foundation. Previously Director of Product Management at Alfresco, as Executive Director Gabriele grew the Fintech Open Source Foundation FINOS from the ground up, with the vision of creating a trusted arena for the global financial services industry to innovate faster, leveraging open source as a model of collaboration. Gabriele holds a Master in Computer Engineering, is a Committer for the Apache Software Foundation, and advises open source startups. He's a passionate soccer fan, reggae music connoisseur, and special needs dad and advocate wannabe.

John is the global co-head of the Enterprise Platforms team. He serves on the Technology Executive Leadership Group. Prior to joining the Technology Division to assume his current role in 2014, John led the Securities Division Core Strats team. He joined Goldman Sachs in 2003 as an associate on the FICC Core Strats team and was named managing director in 2008 and partner in 2014. Prior to joining the firm, John worked for several Internet start-up companies and pursued a Ph.D. in Philosophy at the University of California at Berkeley and Rutgers University. He earned a BA in Philosophy from Wesleyan University in 1992.

Sultan Meghji was named Chief Innovation Officer of the Federal Deposit Insurance Corporation (FDIC) in February 2021. Prior to joining the FDIC, Mr. Meghji co-founded a financial technology firm providing secure, cloud-native, artificial intelligence-based software for community banks and credit unions. In addition, he worked on an aid mission to help implement digital banking in Kenya, Tanzania, and Uganda, and worked with fintechs and central banks to create peer-to-peer banking solutions for hundreds of thousands of people in underserved areas of Africa and Central Asia.

Mr. Meghji is a nonresident scholar in the Cyber Policy Initiative at the Carnegie Endowment for International Peace. His research focuses on the architecture of the global financial system, cyber and critical infrastructure security, and the impact of artificial intelligence and quantum computing. He is also an adjunct professor at Washington University's Olin Business School, and a distinguished member of the Bretton Woods Committee and the Missouri Advisory Committee for the U.S. Global Leadership Coalition. Mr. Meghji has served as an advisor to the U.S. Treasury, the Group of Seven (G7), the Office of the Comptroller of the Currency (OCC), and the Federal Bureau of Investigation (FBI) in the areas of cybersecurity, quantum computing, and artificial intelligence.

Jean-Thierry (JT) Dupuy is the Vice President Head of Client Services at Symphony. He is responsible for Front Line Support, Technical Account Management, Solution Architecture and Developer Relationships. In addition he manages the Engineering functions around Security, Identity and Data Leakage Protection. Prior to being at Symphony JT was the Head of Investment Banking Capital markets and Research technology at Wells Fargo.

As a data science architect, I bridge the gap between engineering, data science and devops, connecting people to industrialise actionable data products that transform businesses. I provide my colleagues with expertise in enterprise architecture, commercial experience delivering data science to production as well as my solid understanding in software design patterns and passion for highly scalable systems.

Nadine Chakar is executive vice president and head of State Street Digital, State Street's newest division focused on digital assets and technologies, encompassing the setup of a new integrated business and operating model to support clients' entire digital investment cycle from pre-trade, trade, and post-trade, as well as other initiatives designed to enhance the client experience. Previously, Nadine served as executive vice president and head of State Street Global Markets. In this role, she oversaw all aspects of Global Markets' trading, product and operations platform, helping to drive successful client solutions. She is also a member of the company's Management Committee.

Nadine has more than 30 years of experience in global wealth and asset management. Most recently, she served as the global head of operations for the Global Wealth and Asset Management Division at Manulife. Nadine was also an executive sponsor of Manulife's Global Wealth and Asset Management's Global Optimization Program. Prior to Manulife, Nadine led the Global Asset Servicing teams for BNY Mellon as the global head of Financial Institutions and head of eCommerce Strategy and Research and Financial Markets Infrastructure.

Nadine is executive sponsor for State Street's Sustainability Employee Network, which focuses on raising awareness of sustainability issues and devise solutions to the world's pressing environmental problems.

Nadine holds a Bachelor of Arts in Economics and Finance from Boston University. She currently serves on the Board of Trustees for the Boston Medical Center and is a member of the Institute of International Finance where she is a member of the Digital Finance Steering Committee.

In 2020, Nadine was named as one of American Banker's Most Powerful Women in Finance.

Brad Levy is the chief executive officer at Symphony, the leading financial markets' infrastructure and technology platform.

Prior to Symphony, Brad was a partner and executive at global analytics and information provider, IHS Markit, having also served as CEO of MarkitSERV and global head of its loan settlement and software services division. Earlier in his career, he spent 18 years at Goldman Sachs, culminating in his role as managing director and global head of Goldman's Principal Strategic Investments Group.

He was recently awarded the prestigious Markets Media Markets Choice Neil DeSena Market Advocate Award for his dedication to driving change as a global leader in financial services. In 2018 (the final year of the ranking), he was fourth on Institutional Investor's Trading Technology 40. In November 2020 Brad joined the board of directors of LifeWorks, a human resources and technology company, publicly traded on the Toronto Stock Exchange. He has served on numerous other boards within the financial sector and is a sought-after advisor and speaker.

Igor Seletskiy is the CEO and founder of TuxCare (d.b.a. CloudLinux). An expert in software development for the web hosting industry, together with a strong entrepreneurial spirit, he founded CloudLinux in 2009. He led the company into becoming one of the leading specialised hosting OS providers.
Under his leadership, CloudLinux grew beyond CloudLinux OS and extended to services such as hosting malware protection with Imunify360, TuxCare, which encompasses support services for diverse Enterprise-grade Linux distributions and Live Patching for critical components.
In 2020, his vision for AlmaLinux OS drove the project creation, and he served on the AlmaLinux Foundation board until recently.
He has been a frequent presence and speaker at events like the RSA Conference, Cloudtalk Global, CloudFest, ARM Dev Con, HostingCon, cPanel Conference and many others.