Attendee
(Full Access)
StandardOct 1–31, 2020
$75 USD
LateNov 1–20, 2020
$100 USD
Keynote Only
StandardOct 1–31, 2020
Complimentary
LateNov 1–20, 2020
Complimentary
Attendee (Full Access)
Access to the entire immersive event experience, including keynote and breakout sessions, sponsor showcase, and conference activities (co-located events not included).

Keynote Only
An introduction to KubeCon + CloudNativeCon with access to keynote sessions only.

Our registration system is now integrated with the Linux Foundation Single sign-on (SSO) platform. After clicking "Register Now", you will be prompted to log in with your existing SSO account or to create a new one.

If you have forgotten the password for an existing account, reset it by clicking "Forgot Password."

You will also be able to use 3rd party authentication providers (Gmail, GitHub, LinkedIn, and Facebook) to automatically generate your SSO Account.

If you experience issues, click the "Contact Us" link on the SSO page to connect with our support team.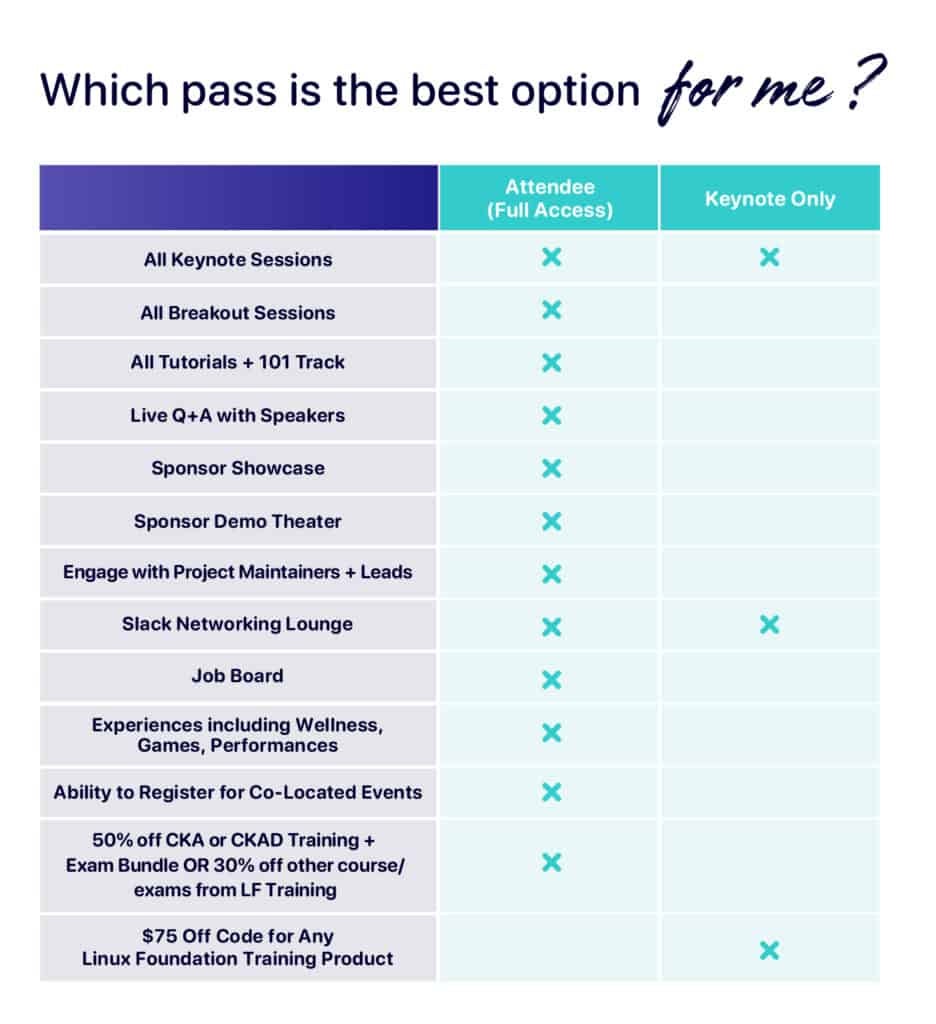 Quick Note: We never sell attendee lists or contact information, nor do we authorize others to do so. If you receive an email claiming to sell an attendee list for a Linux Foundation event, please forward it to events@cncf.io.
Media
To request media registration, please contact pr@cncf.io.
Speaker
Only accepted speakers via the CFP process will receive complimentary speaker registration. If you are an accepted speaker and did not receive your code, please email speakers@cncf.io.
Sponsor
To request sponsor registration, please contact your internal company sponsor manager. For additional registration assistance, please contact events@cncf.io.
---
DISCOUNTS

Join the CNCF End User Community & receive unlimited tickets to our virtual KubeCon
Cloud native end users can send an unlimited number of people to KubeCon + CloudNativeCon EU – Virtual *and* join with other cloud native leaders like Apple, Bloomberg, and Spotify. The End User Community, which is limited to companies that do not sell cloud native services, has a private monthly call, email list, Slack channel, and Github repo with direct access to project maintainers and other community leaders. The End User Supporter costs $4500 annually for companies with more than 300 employees, or $1800 for companies with less than 299 employees. Join the End User Community to have your organization's voice heard! Click to learn more or email memberships@cncf.io.

Group Discounts
If you have a group of 5 or more people, you can receive a 10% discount on all passes. All pass types must be the same, and all registrations must be processed under one group registration and must be paid with the same credit card. To create a group, select "Add Another Person" to your registration. When 5 or more people are added the 10% discount will be automatically applied. Please note: this discount may not be combined with any additional discounts. Please contact events@cncf.io for any questions.
---

CANCELLATIONS + SUBSTITUTIONS
If you must cancel for any reason, please log back into your registration using your confirmation number and select "unregister". If you need further assistance, email at events@cncf.io. Refunds will only be issued for cancellations received two weeks before the start date of the event and may take up to 14 days to process. We have waived all processing fees.

Note to Event Participants on Email Scams to Purchase Attendee Lists
There has been a growing number of emails going out claiming to sell the attendee list for this event. We never sell attendee lists or contact information, nor do we authorize others to do so. Anyone claiming to be authorized to do so is fraudulent. At this time we have no reason to believe that they have obtained the attendee list, which we never publicly share for exactly this reason. If you receive an email claiming to sell an attendee list for this event, it is fraudulent.